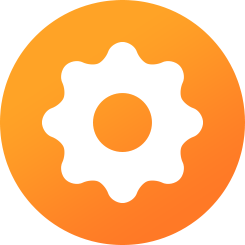 SEO Landing Page Generator
SEO Landing Page Generator
Build thousands of location specific landing pages within minutes to boost your SEO. Choose from over 100,000 cities in multiple countries to automatically create service specific pages with unique content.
What Is The Landing Page Generator?
Say goodbye to cloning and manually maintaining local landing pages on your site.
The IntellaSoft Plugins Landing Page Generator (LPG) is a unique tool which creates local landing pages across your service area for all the services you offer in those areas. 
You begin by selecting your country (yes, we likely support your country – see below!). Then select your region or state. Depending on how many counties you have purchased (one, three, ten, or unlimited), you then go select the counties you wish to cover. For each county, select the cities in that county. The LPG has a database of the cities in each county, for all the counties in each state. It also allows adding municipalities that aren't included in the census database. 
Once you have your counties and cities selected, you create a template page for the service or offering you want to show up for. Let's say you offer Mobile Horse Washing. So you set up a Mobile Horse Washing template page. Create the content for that page in our easy-to-use template editor, using the default WordPress editor. (You can also enter HTML code if you want to get fancy, but that's not required). The LPG really shines when combined with our other plugins, especially the Content Randomizer, which allows you to create a nearly infinite number of variations no matter how many cities you need to cover. More about that on the Content Randomizer page… 
Once you've configured your Mobile Horse Washing page with your content, pictures, headings, etc., and publish it, the magic behind the scenes happens. There's a lot to what the LPG does, but in a nutshell it creates a local landing page for each of the cities you selected with your template. You will shortly start to see Mobile Horse Washing in Farmers Branch Texas, Mobile Horse Washing in Arlington Texas, Mobile Horse Washing in Carrolton Texas, Mobile Horse Washing in Lewisville Texas, and so on (substitute your local cities). If you're paying attention here, you know what just happened:
You have now satisfied search queries for Mobile Horse Washing Near Me for your customers searching in the cities you service. 
The LPG now goes and creates both an XML and an HTML sitemap structure. It submits the XML sitemap to Google for you. Because you might have hundreds or thousands of pages in that sitemap, a newly added feature shuffles the order of links in the sitemap to make sure search engines don't run out of crawl allocation before they get to the newest page additions – a feature that increased the speed and thoroughness of the indexing. 
The HTML sitemap provides a visual map to your landing pages, as well as ensures that every page is linked to other pages in your site. This internal linking is recommended for SEO best practices, but we do it without a separate plugin. When you implement landing pages, trying to maintain site maps can be especially tedious. We handle this automatically for you. 
Let's say you now create Horse Blanket Repair and Horse Tack Repair and Saddle Cleaning and Horse Barn Cleaning and Horse Clipping templates. The LPG will go create a landing page for each of these, for every city you've selected (this is customizable in case you want to exclude certain templates from certain areas). Suppose you discover that your Mobile Horse Washing template had a misspelling, and Horse was spelled House. With traditional landing page creation methods, you'll be spending the next 3 days editing each page one by one, in between answering calls about cleaning moss off people's trailers (because you would be showing up in searches for this!). But not with our Landing Page Generator. You simply pull up the template, make the edit once, and save it. The LPG goes and updates every one of those landing pages, before you can even hit refresh to check the page! Doesn't matter if you have 3 cities or 300. 
The IntellaSoft SEO Plugins are designed to work together as a bundle, too. The LPG integrates seamlessly with the other plugins providing content randomization, schema markup, FAQ sections, image shuffling, and large market customization, to name a few. When combined with the bundle, the IntellaSoft Plugins provide a comprehensive solution to the problem of creating unique and custom pages for all your services in all the areas you service, and making sure that search engines see these pages as locally relevant to your potential customers. Our customers experience dramatic results, consistently showing up high in search results in areas that they had never even shown up at all before. While we can't promise you will turn up in Page One Position One for all your keywords in a couple of days, such a result is typical for our customers in at least some of the cities they've added. There are a lot of factors going into making this happen, but our plugins put such a result well within reach by making sure that the landing pages have the right information, and produce pages following SEO best practices. 
Some other things that the LPG does, especially when bundled with our other plugins, include the following: creating a list of related services and links to those pages, on each page; creating a list of linked pages nearby cities; placing demographics information you select into widgets on each landing page, specific to that city; inserting local content for selected cities per your configuration (requires the local content add-on); generating randomized versions of the page with each retrieval (requires the content randomizer); inserting metadata and schema markup into the page's HTML for better search engine results; customized local business information including phone number at the county and city level; and much more.
Some screen shots and videos are provided below. But to really see what the product can do for you, contact us. We'd be happy to walk you through the product and features that would best meet your specific needs. And while we do provide setup and configuration videos and documentation, we're more than happy to help you with configuration and guided setup. We also offer done-for-you installation and configuration, it that better meets your needs. 
CALL US IF YOU HAVE ANY QUESTIONS
support@intellasoftplugins.com
For web developers and agencies, we offer white-labeling, discounted licenses of our plugins, and an affiliate program.
Now With Gutenberg Blocks Support!
Build Landing Page Templates with the Gutenberg Editor
Create beautiful landing pages by using the native WordPress Gutenberg Editor! By integrating our plugin with the Gutenberg Editor, the plugin has become easily accessible to tens of thousands of web editors across the world who rely on the natively supported Gutenberg Blocks editor on their WordPress site. WordPress has put extensive development into their block editor, to allow developers to achieve stunning looking sites without adding a heavy page builder plugin or theme. Harness this power to create visually stimulating and market-capturing dynamic landing pages, by using the Gutenberg Editor in your landing pages. This feature works seamlessly with our plugins. 
Works With All Page Builders and Editors
Keep Your Current Page Builder While Adding Landing Pages with Intellasoft's Plugins
You can incorporate local landing pages into your existing website with the Intellasoft Plugins Landing Page Generator, and using the Content Randomizer and Google My Business Manager, no matter what page builder you might be using, whether it's the Gutenberg Blocks Editor (natively supported inside the landing pages themselves), or any of the other popular page builders:
Ark, Avada, Avia, Beaver Builder, BeTheme, Bold, Divi, Elementor, Enfold, Flatsome, Fusion Builder, Fresh Builder, Live Composer, Muffin, Pro, SiteOrigin, Thrive Architect, Visual Composer and X.
With IntellaSoft Plugins, there's no need to rebuild your site, or get your developer to make changes so that our plugins will work. They will work seamlessly with whatever builder you use. And if you encounter any issues, our award-winning support will work with you to ensure your success.
Our plugin supports creating location based landing pages for every major country around the world
"Traditional marketing and advertising is telling the world you're a rock star. Creating Landing Pages is showing the world that you are one."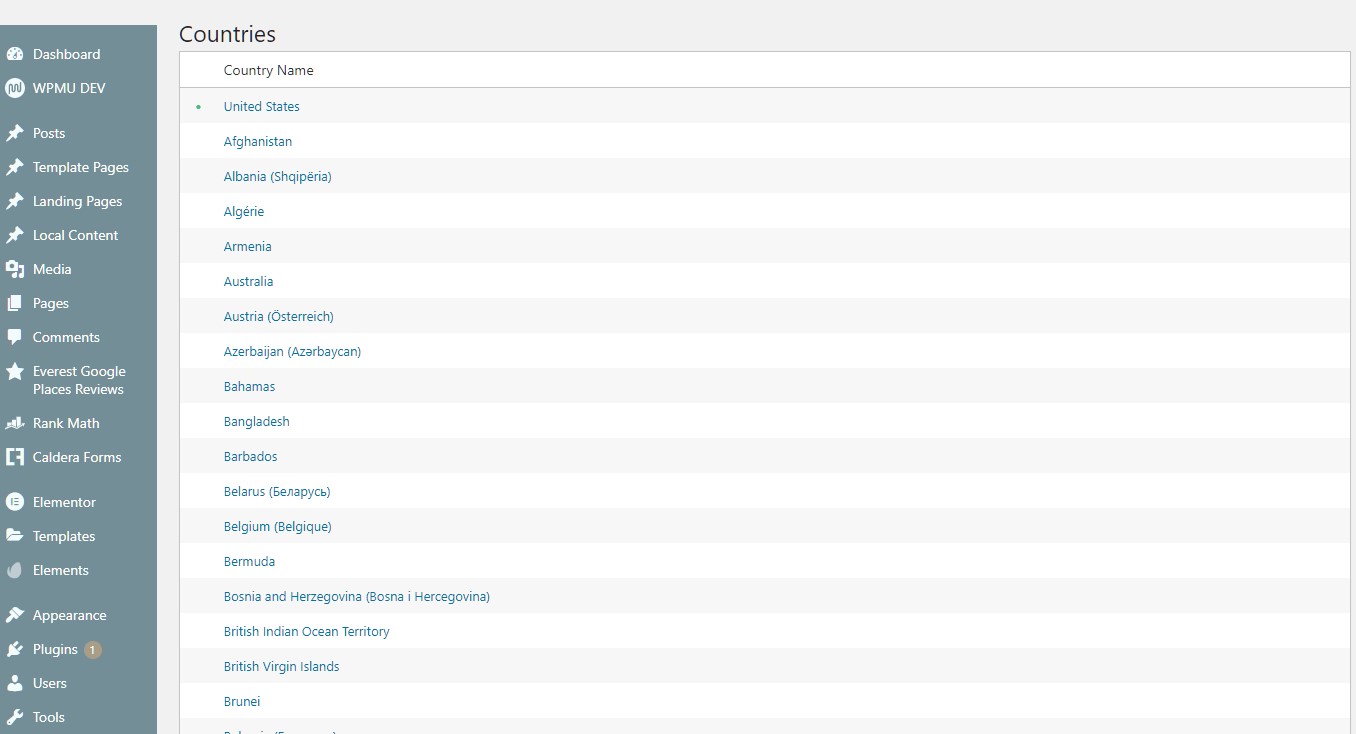 When you first go into the Landing Page Generator configuration, you select a country. We have a list of most countries in the world. If yours is somehow missing, we can almost certainly add it!
Selecting and Downloading a State
When you select a state, the plugin downloads a list of counties and cities. You just click on the state name and choose continue.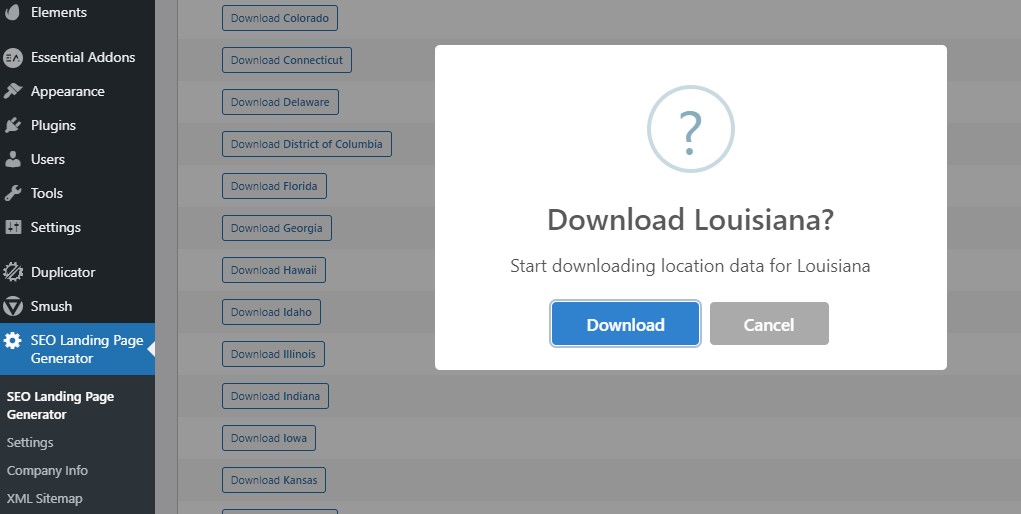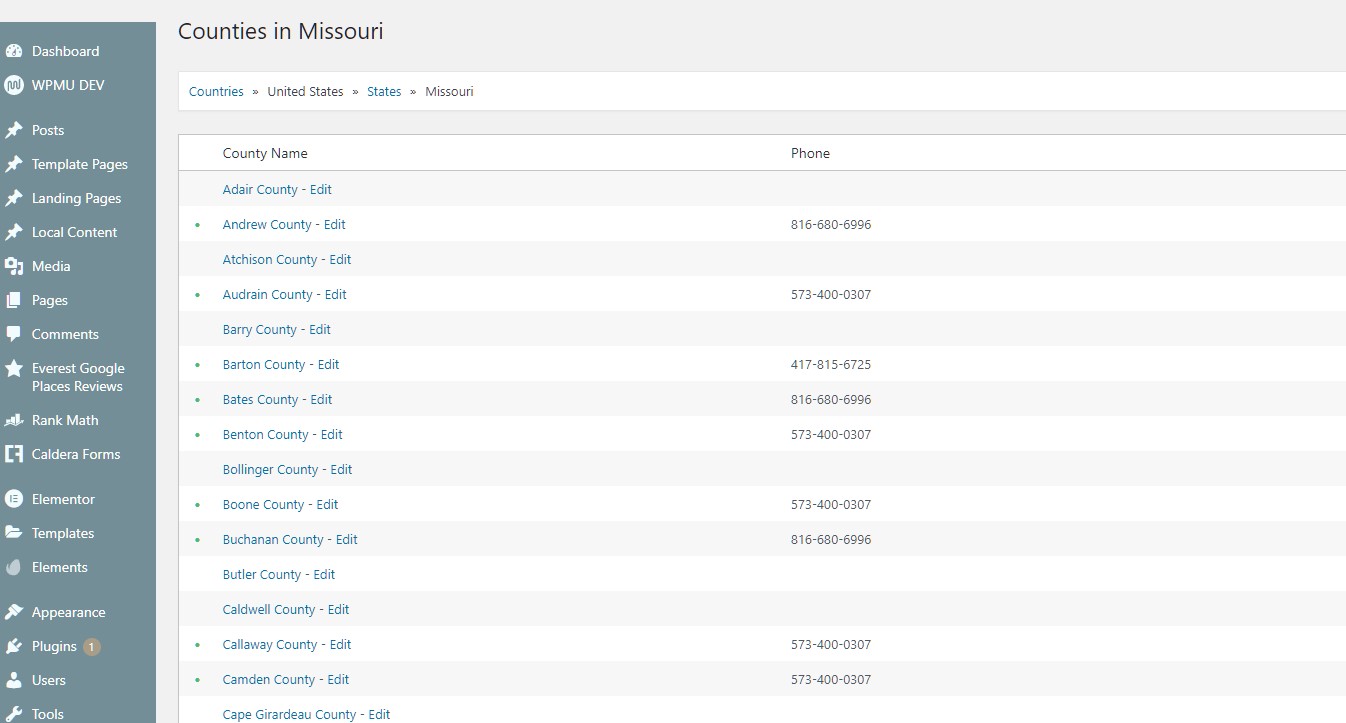 Once a state has been downloaded, the counties can be selected (depending on how many counties you've purchased). You click on a county to select the cities in that county that you want to configure. (Pro tip: when configuring many counties, hold down Ctrl or Cmd on a Mac to open each county you want in a new tab. Then you can go configure them one at a time, without losing your place). 
Once a county is selected, you can edit the information in it. This is useful when different counties are assigned to different physical offices, or Google Business locations. The phone number can also be customized. With these specific edits, variables in the content randomizer will pull the info from this edited county rather than using the general business information for the overall site. You can also exclude template pages from being created in a specific county using this page.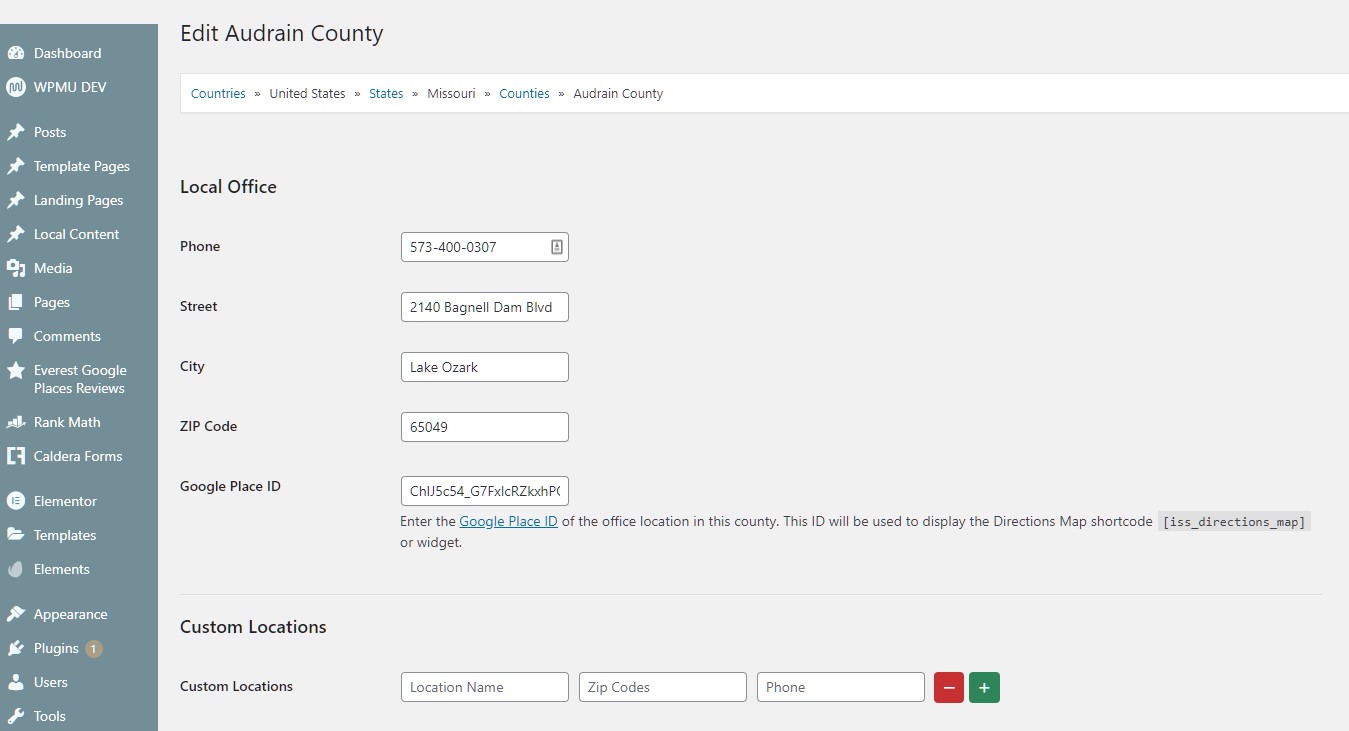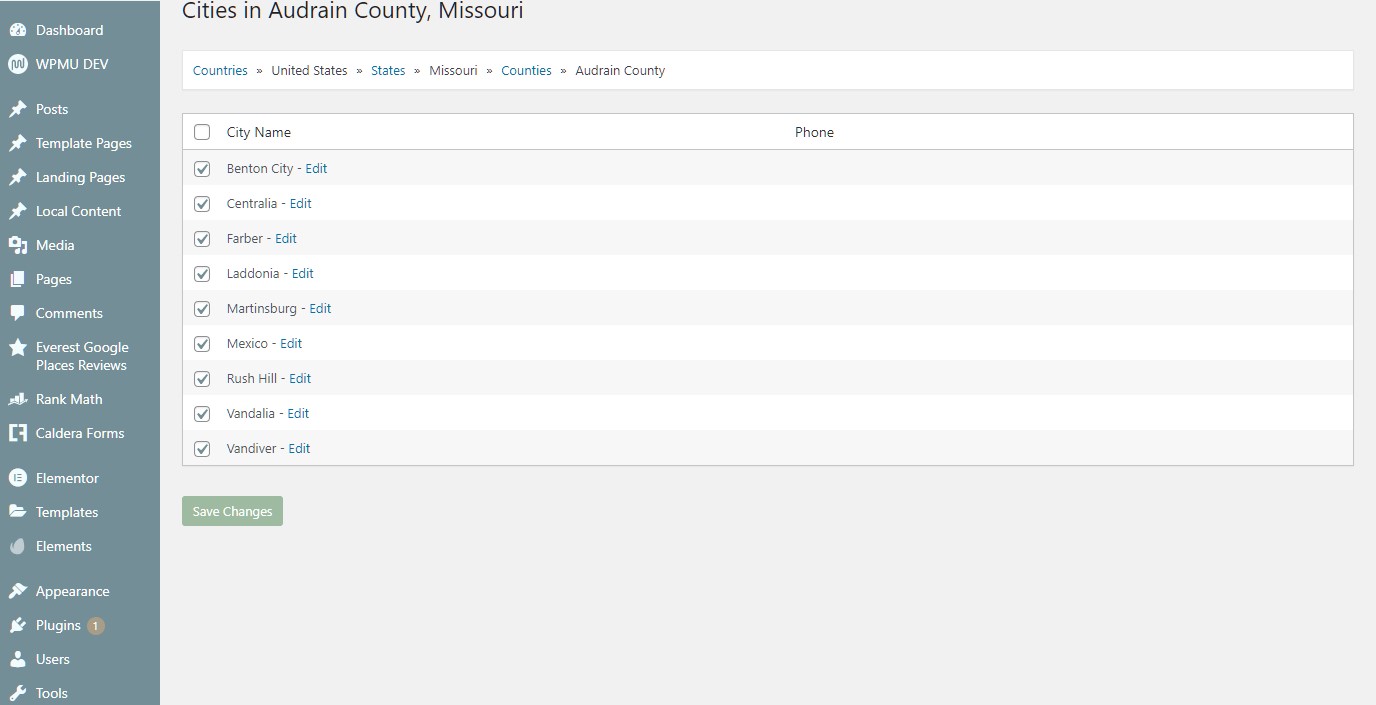 The cities in the county show up when you click the county, and then you can select which cities you'd like to create landing pages for. Like counties, cities can be edited for specific phone numbers to override the general phone number when using the phone number variables in the content generation areas.
The Landing Page Generator automatically creates and submits XML sitemaps to Google, and the settings are configurable here. The Landing Page Generator also shuffles the order of pages in the sitemap, to ensure that when search engines crawl these site maps, they will get them in different orders each time. That way you don't have some pages that are way down at the bottom which might not always be checked, if the search engine runs out of crawl allocation before it runs out of sitemap links. Making that change improved indexing of pages, and is a unique feature of our plugin.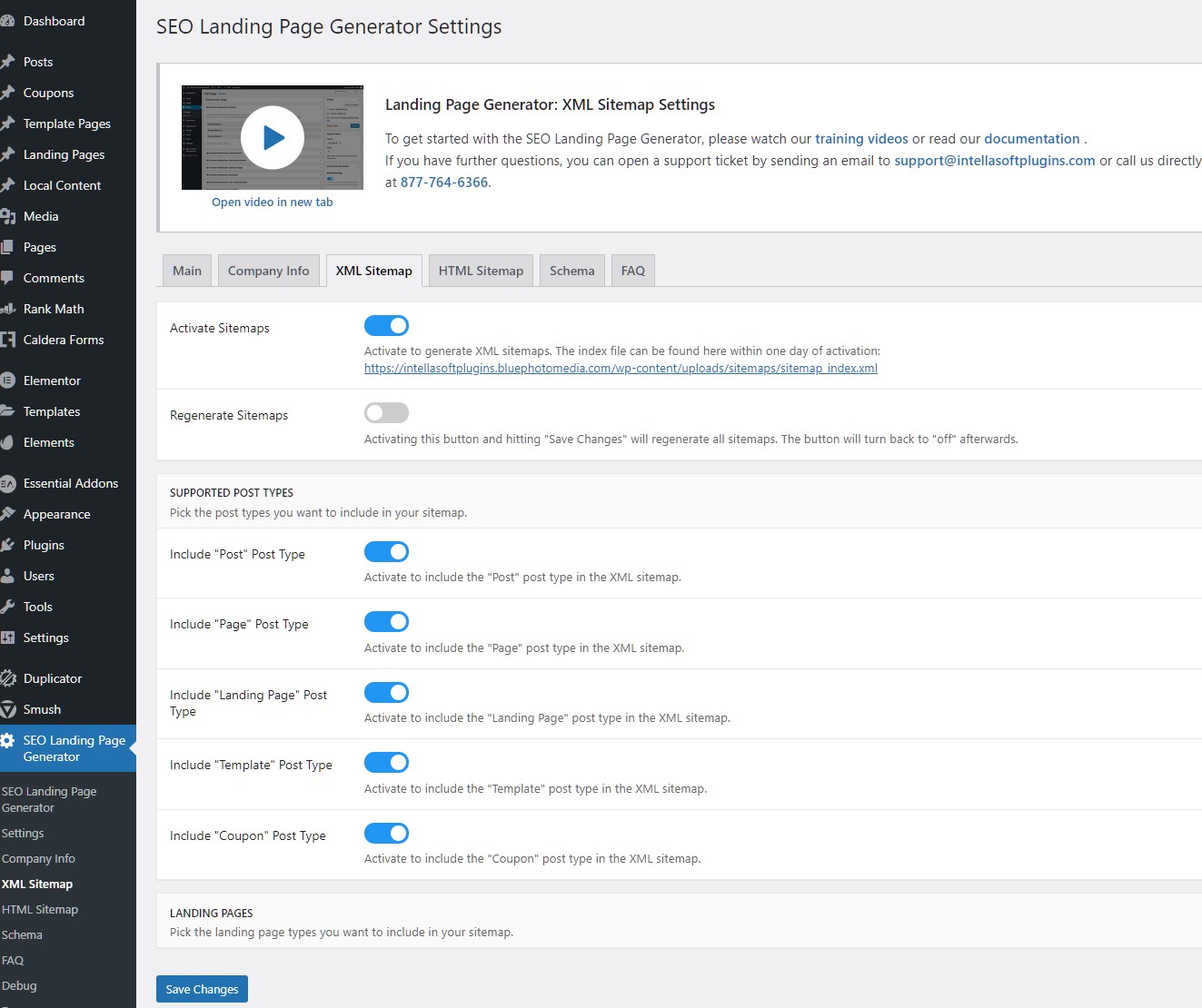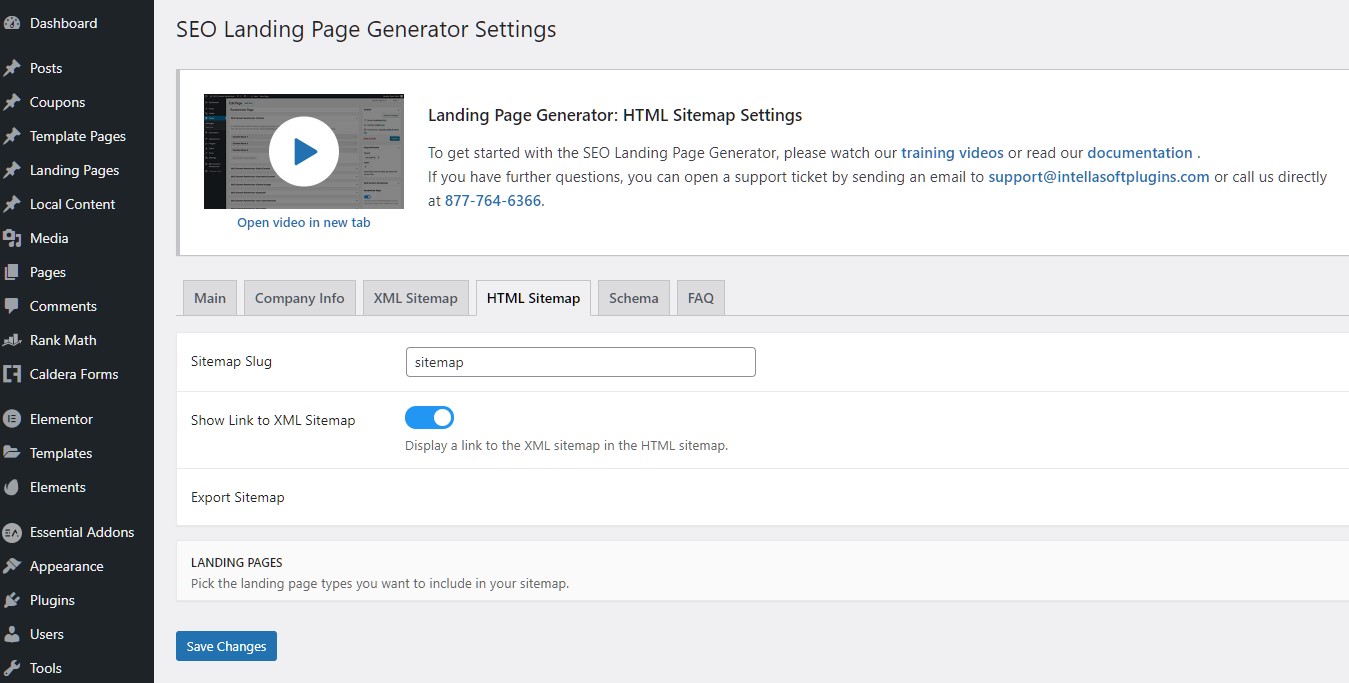 The Landing Page Generator also creates an HTML sitemap – multiple ones, actually – which provide a visual navigation through all the landing pages. This also helps link all the landing pages together when the link to the HTML sitemap is linked on each page. SEO gurus recommend that you use HTML sitemaps to help tie all the pages in your site together, and help search engines find all the pages and see how they relate to each other. Other implementations require you to set up a separate plugin to manage for that purpose, but IntellaSoft includes this feature in our plugin – and it's automatic.
The Schema Add-on facilitates generating schema markup for better search engine optimization. Schema Markup is a way of presenting data to search engines in a pre-defined format. Without this plugin, you might have to find a separate plugin, or even put the information in manually into a tool (or, gasp, an HTML editor!). But we handle this for you. You can select the types of schema markup you want to include, and the plugins will pull the information from easy-to-fill-in pages.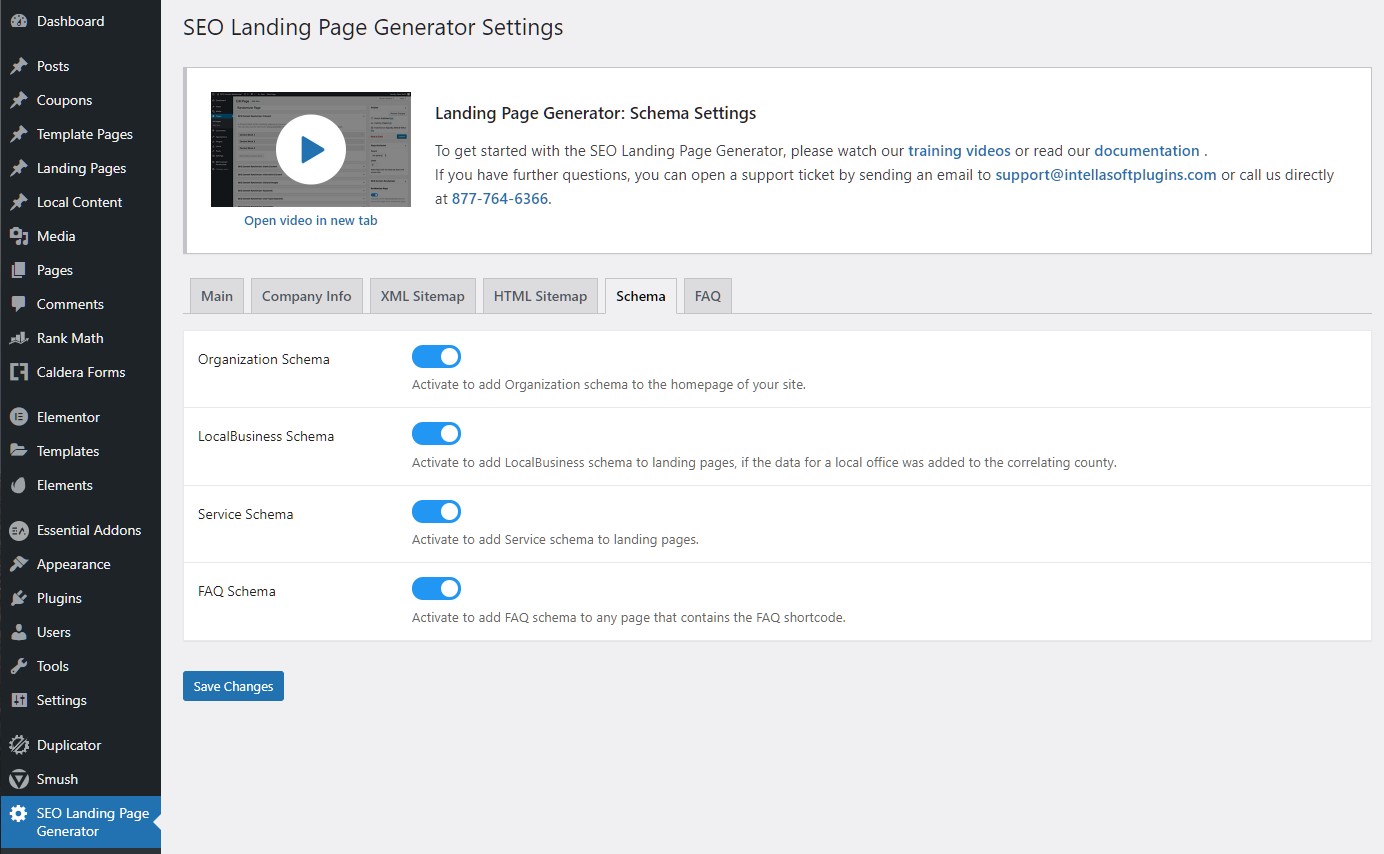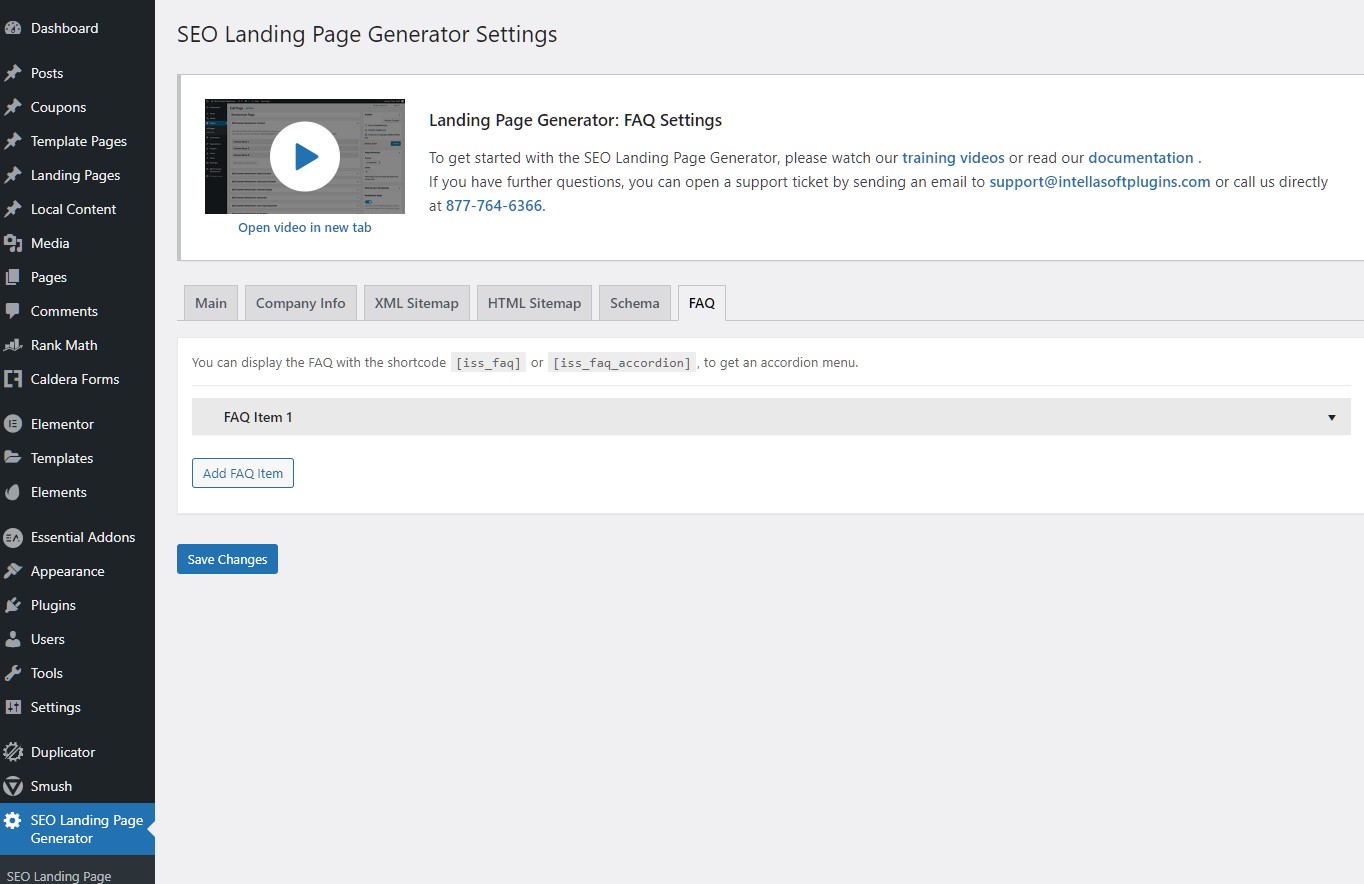 The Landing Page Generator works with the FAQ Add-on to facilitate creation of FAQ schema markup sections. FAQ sections are also available in each template page, selecting three FAQ entries from a list of entries you define. Pages with FAQ sections tend to rank higher in search engines, and IntellaSoft makes this simple to do with our FAQ add-on (which is often just purchased as part of the bundle package that many of our customers choose).
Detailed Documentation Pages - Basic Plugin Setup
Here's the setup documentation page showing how to configure the basic plugin settings. You can see in this screen shot that the documentation walks you through, step by step, configuring the plugin. It's a good thing, because the plugin is highly customizable. If this documentation isn't enough, though, we are more than happy to help walk you through configuration. We want you to join our many happy customers, which is well worth a little hands-on help if needed.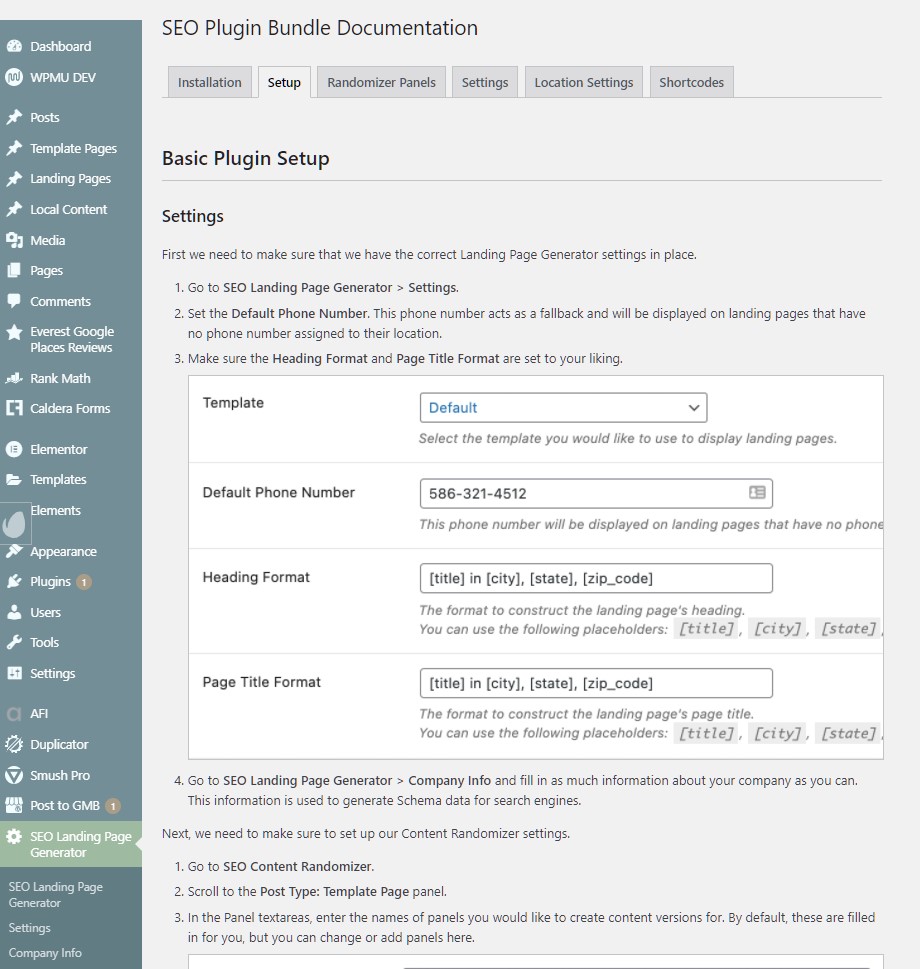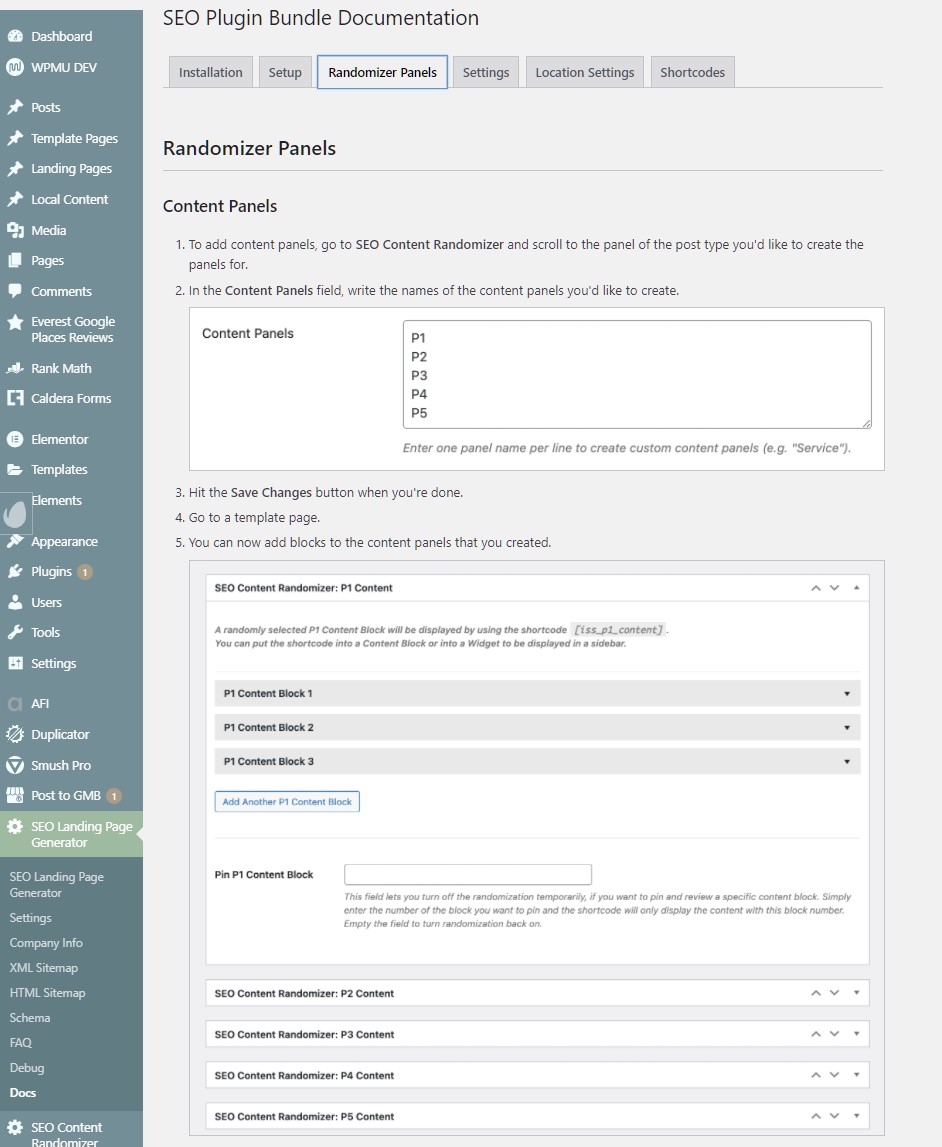 Detailed Documentation - How to Configure the Randomizer Panels
This is a screenshot of the randomizer panel configuration documentation. It shows how you can set up the randomizer for how many content blocks you want for paragraphs, the image panels you want to include, and many more things.
Detailed Documentation - How To Configure the Company Info
This screen shot shows the documentation walking you through configuration of your Company Info, which is used throughout the plugins in short code variables and schema markup. Obviously it's important to get this information right, so we walk you through it.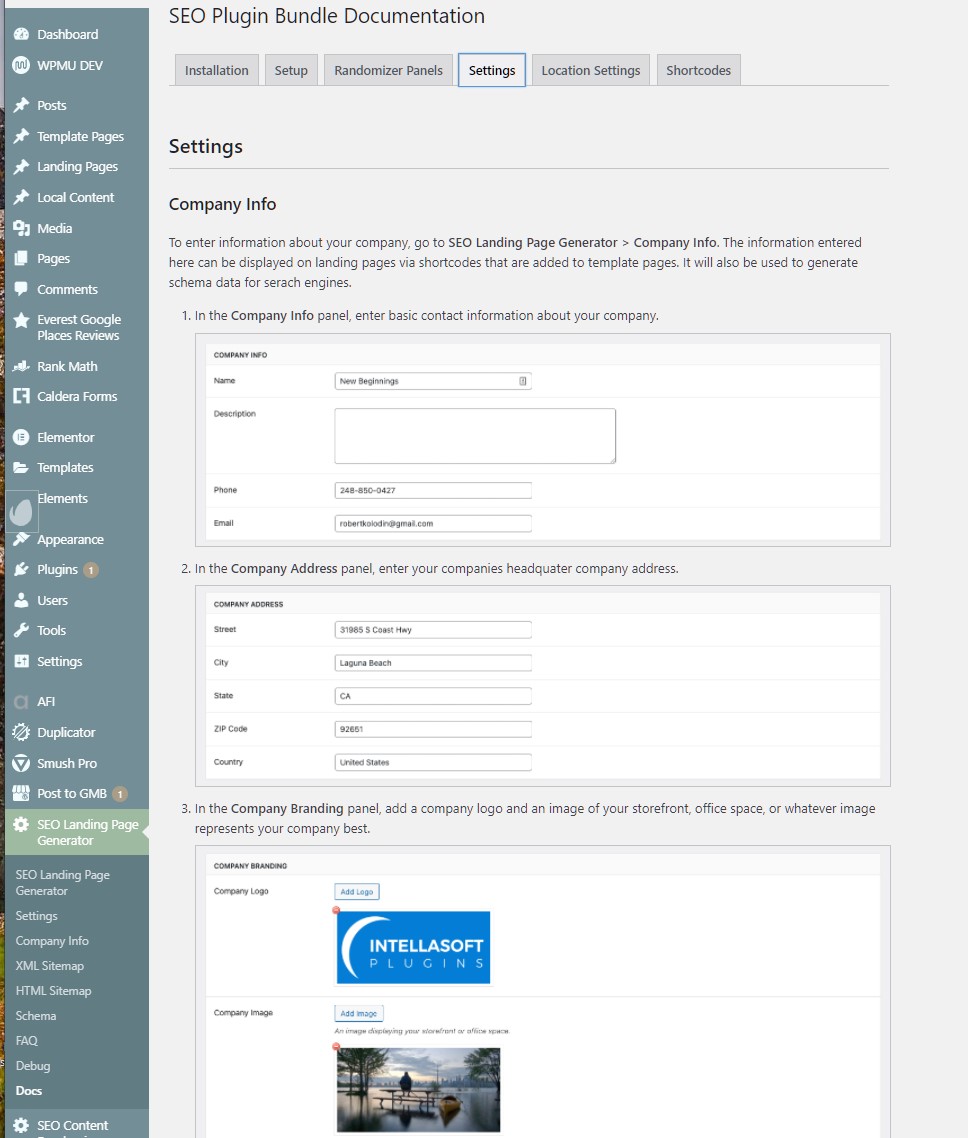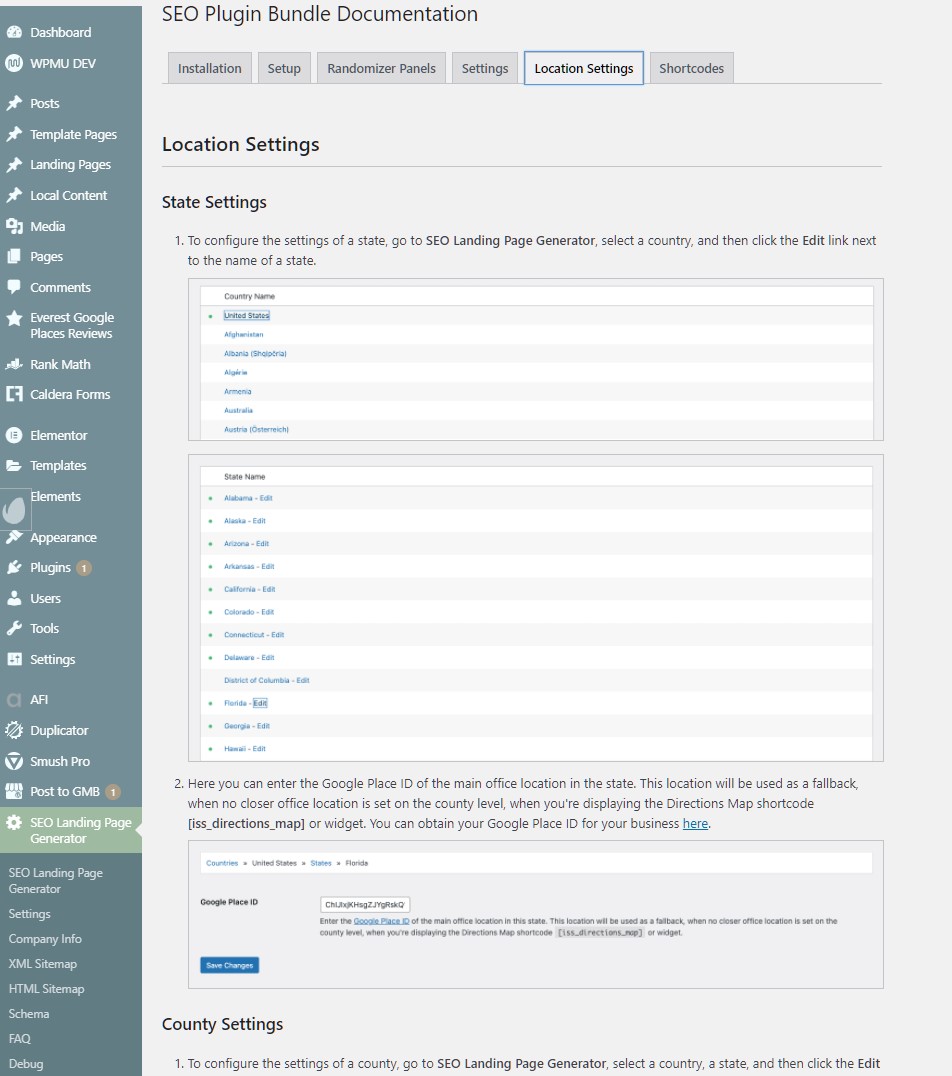 Detailed Documentation - How To Set Location Information
This section of the documentation walks you through selecting a state, and editing the information for that state. It continues to explain county configuration and city selection and configuration. In each area you can configure things such as address, Google Business location ID, and phone number, to override the defaults set in the Company Info area for landing pages in these counties and cities.
Detailed Documentation - Shortcodes
Shortcodes are important with our plugins. They are used to specify variables like city, state, company name, etc. In content blocks you specify shortcodes for these variables, and the generator substitutes the real values for them. The documentation goes through the shortcodes, how to insert them, what variations there are (like how to specify Dallas TX vs Dallas, Texas vs Tarrant County, Dallas, Texas, vs dallas_tx).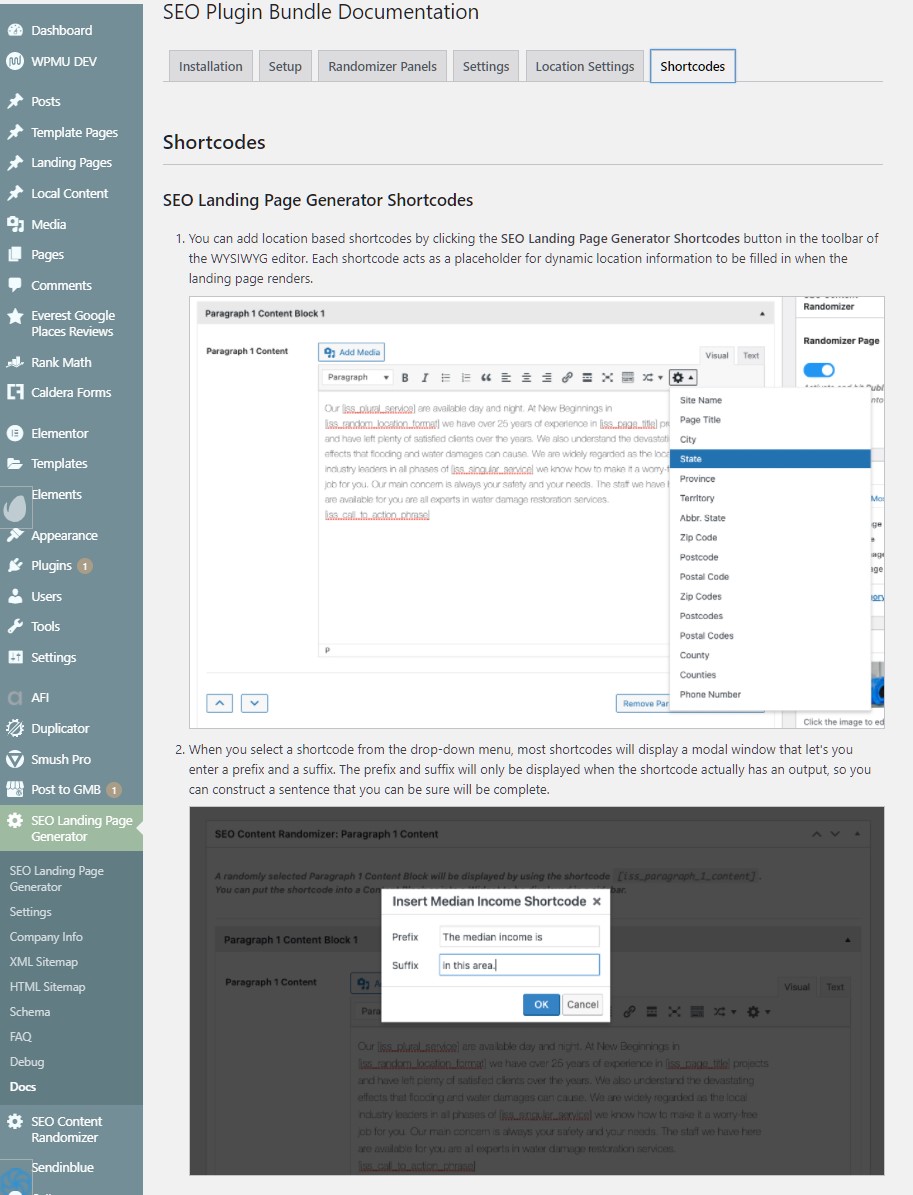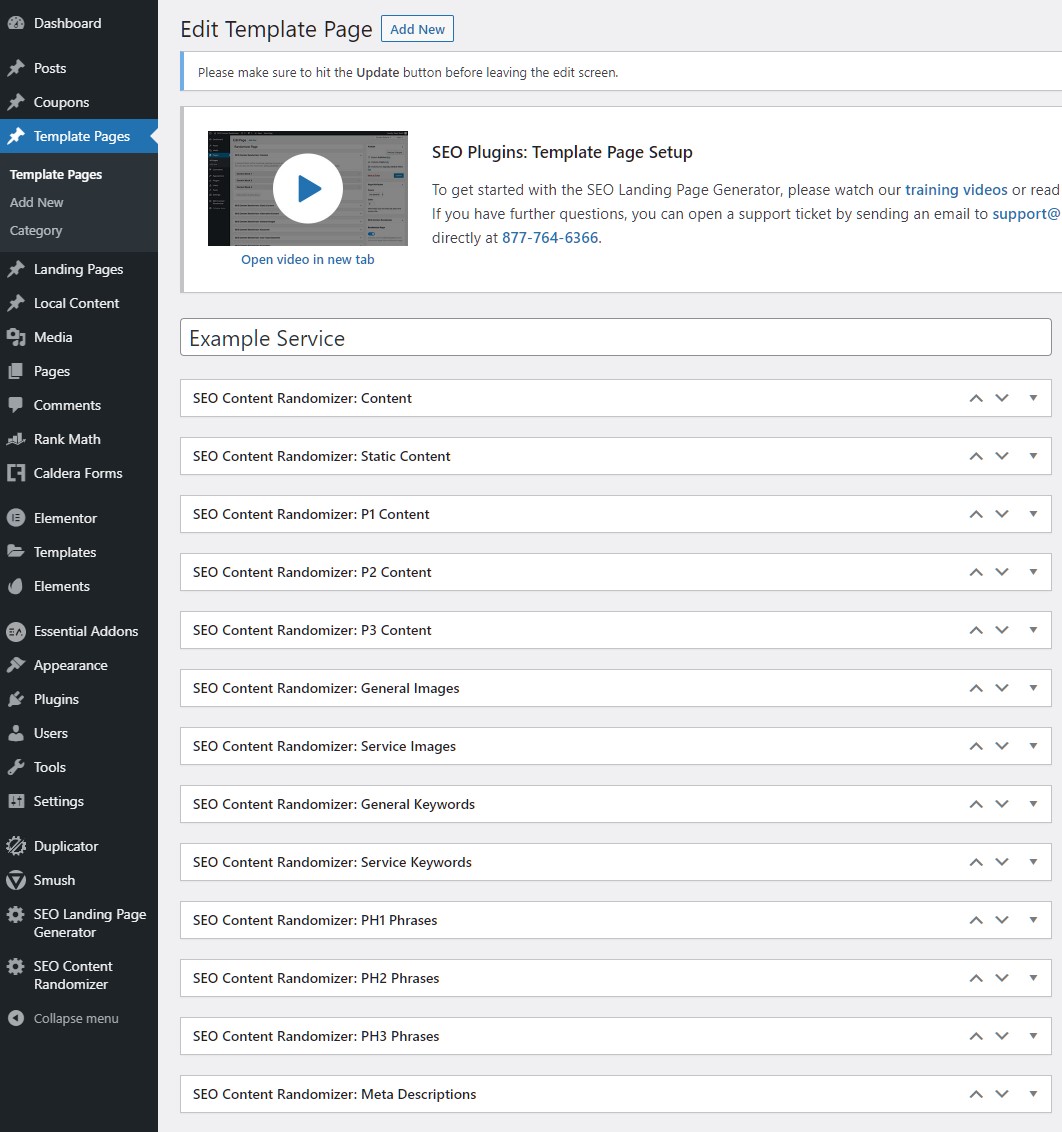 Template Page Configuration - Different kinds of content sections
Template Pages are the pages you configure and which get generated into landing pages. The content randomizer allows this to be highly configurable, and different sections can be referenced by other sections. For example, the Content section can reference paragraph content, images, etc and include those using shortcodes into the content block. The components shown on this page are determined by the configuration in the content randomizer, if it is being used with the Landing Page Generator. 
Template Page Configuration
Sample of creating content that calls randomized sections. You can see in this screen shot how you reference shortcodes in the content to insert variables. There are so many possible combinations and ways to mix up the content that it's easy to create unique and customized pages for the location.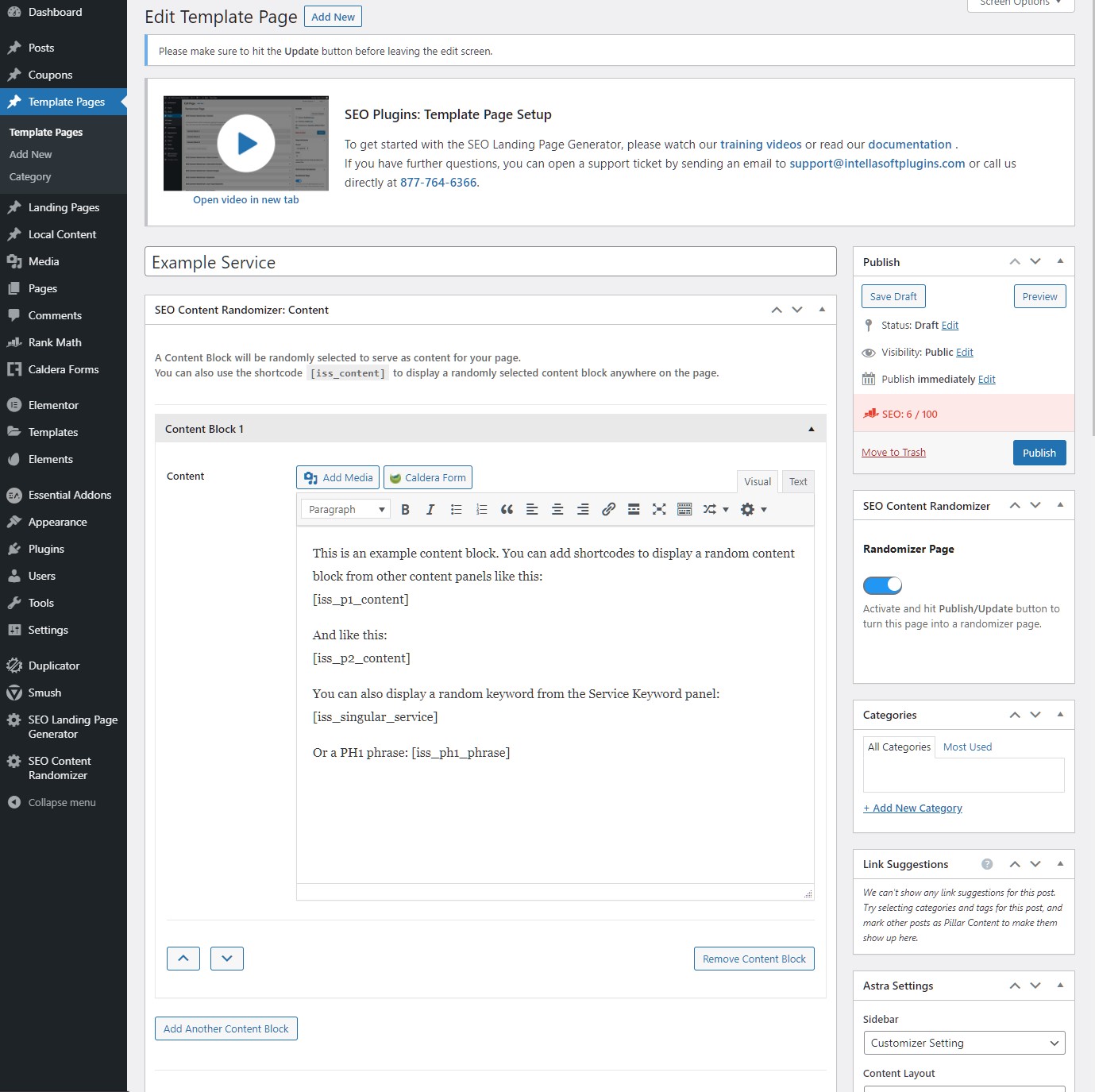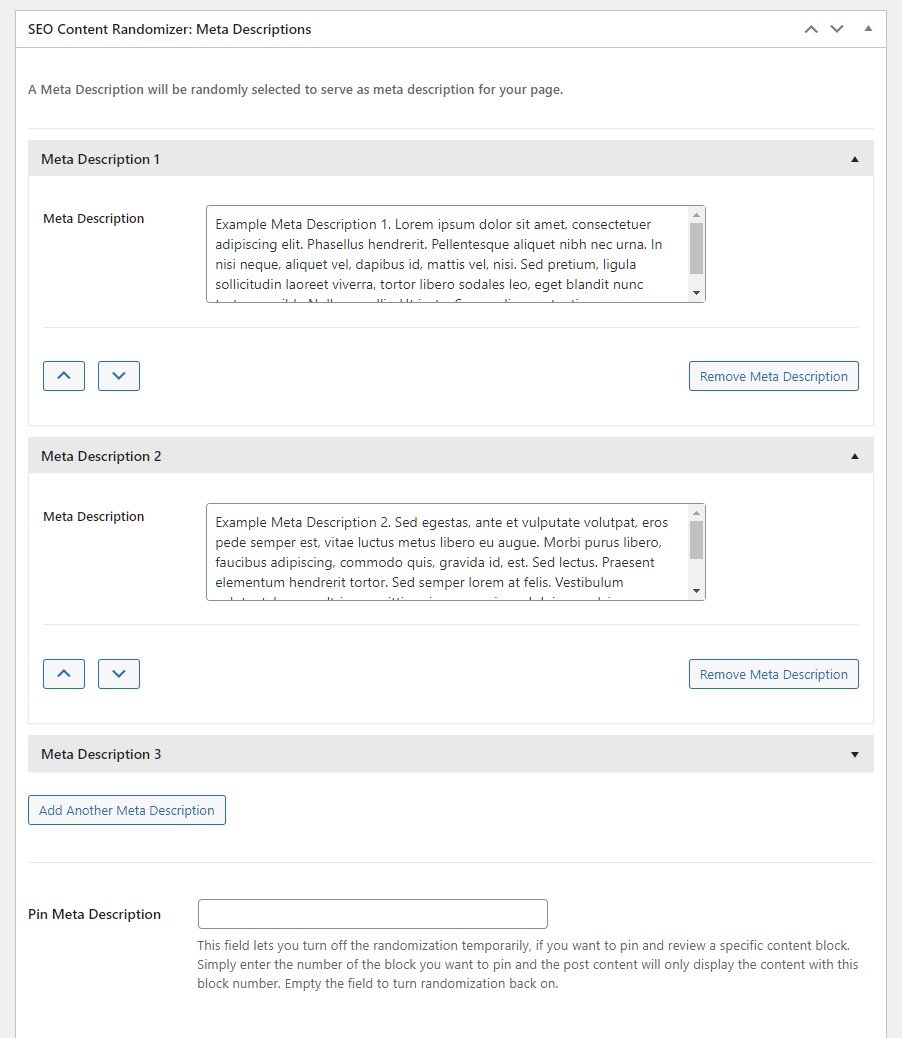 Template Page Configuration - Meta description randomization
Multiple meta description blocks can be specified. That allows the landing page generator to chose one as the meta description when each landing page is generated.
Template Page Configuration - Using multiple content blocks
Here are some examples of multiple content blocks, containing different versions of the same information. The content randomizer with the page generator allows you to create a practically unlimited number of versions of the page, simply by creating multiple versions of each block. With enough content blocks for each paragraph, you can create thousands or tens of thousands of iterations of the same landing page, without even taking into account phrases, keywords, or locations.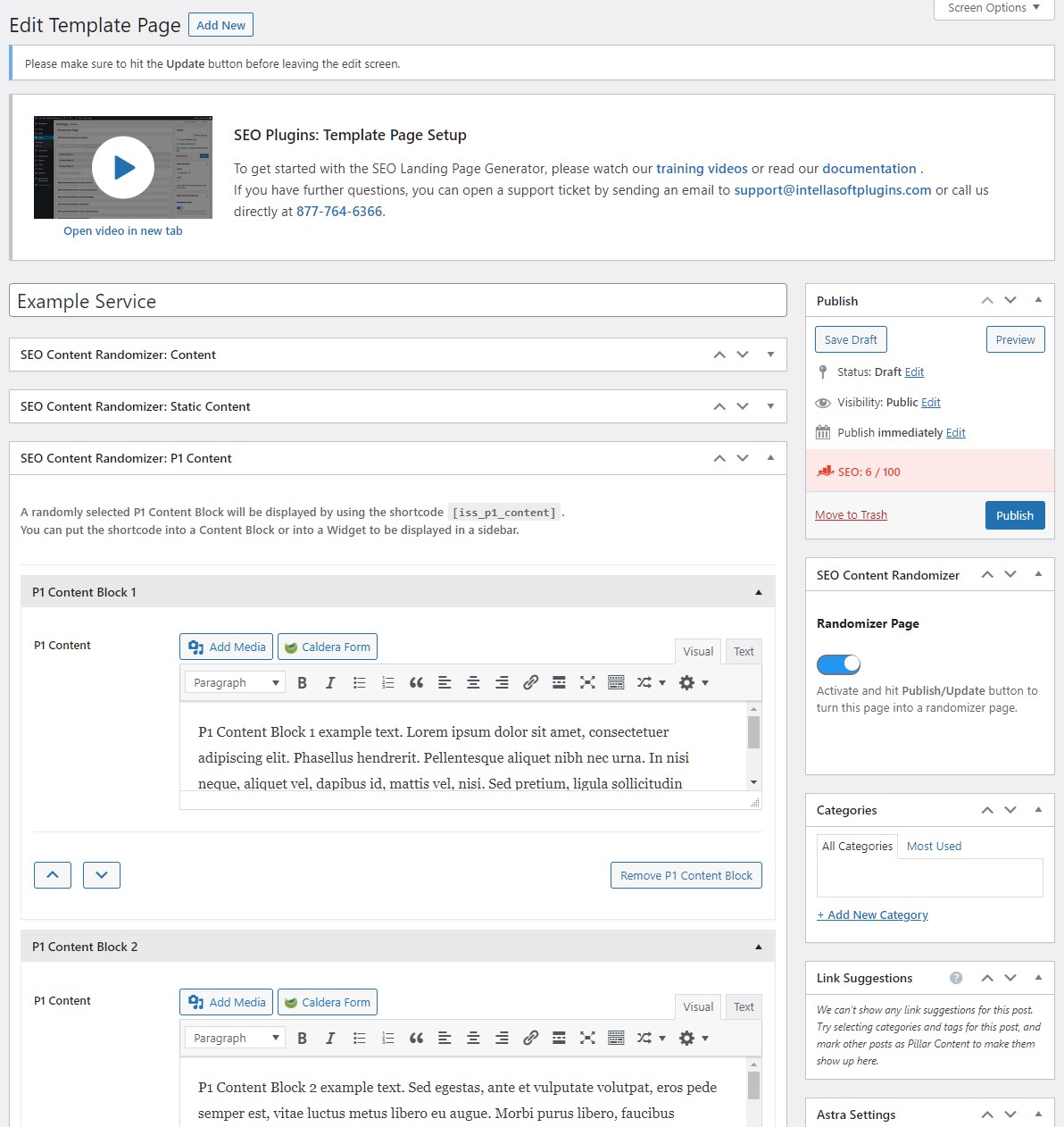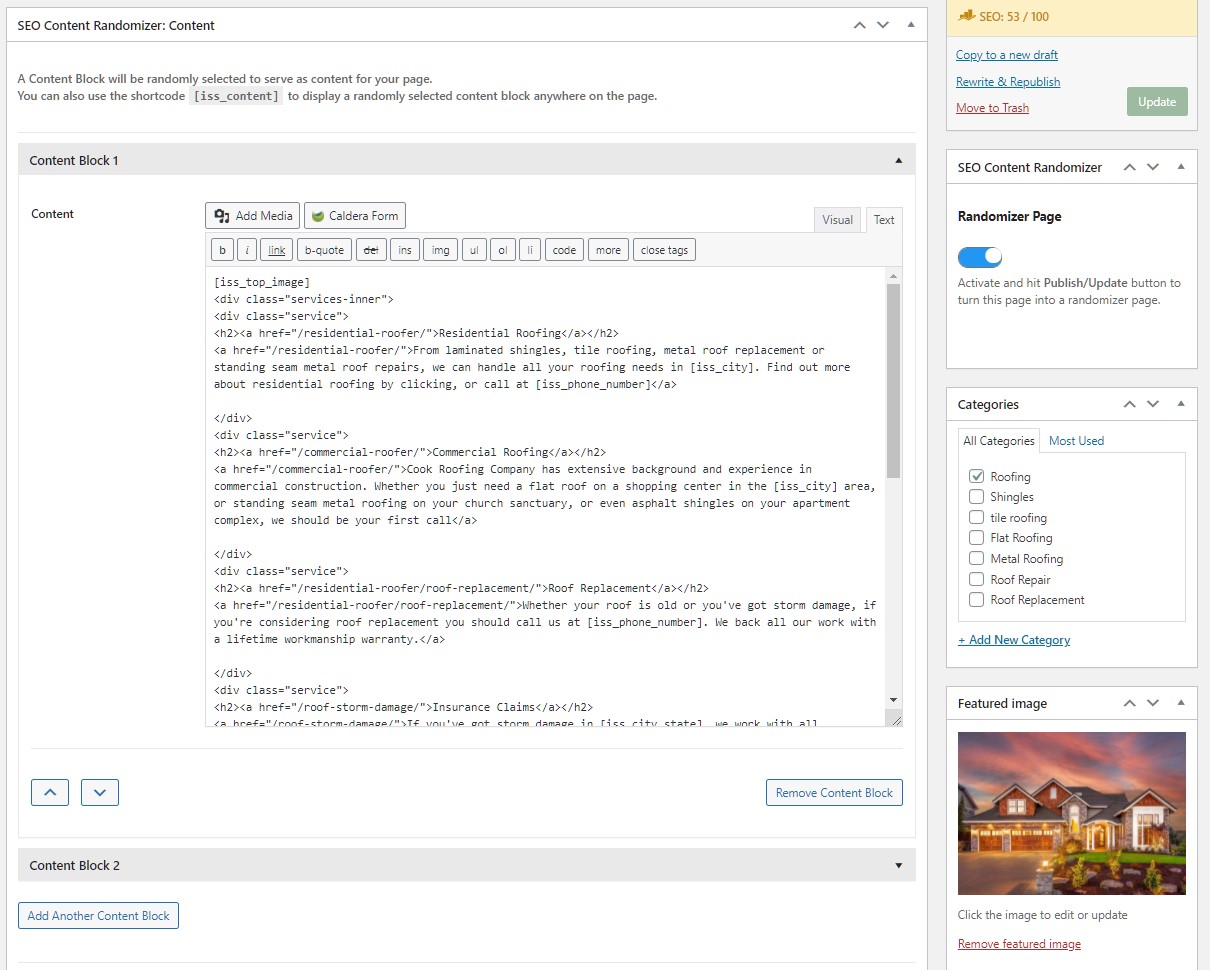 Sample Template Page showing HTML code to create boxes
The content blocks can use the default WordPress text editor. But they can also accept HTML text, allowing for more advanced and customizable output. Here's an example of using code to create button boxes, with shortcodes and other dynamic elements. Multiple blocks like this allow the buttons to vary from landing page to landing page, for more randomization while adding more visual interest to each page.
Template Page Configuration - Image pools
Adding multiple images allows the content randomizer to shuffle multiple images and serve them up at random, where the image is specified in the content blocks. In this screen it shows an image section called Service Images, but other sections can be added for other types of images to allow different types of image sets to be included.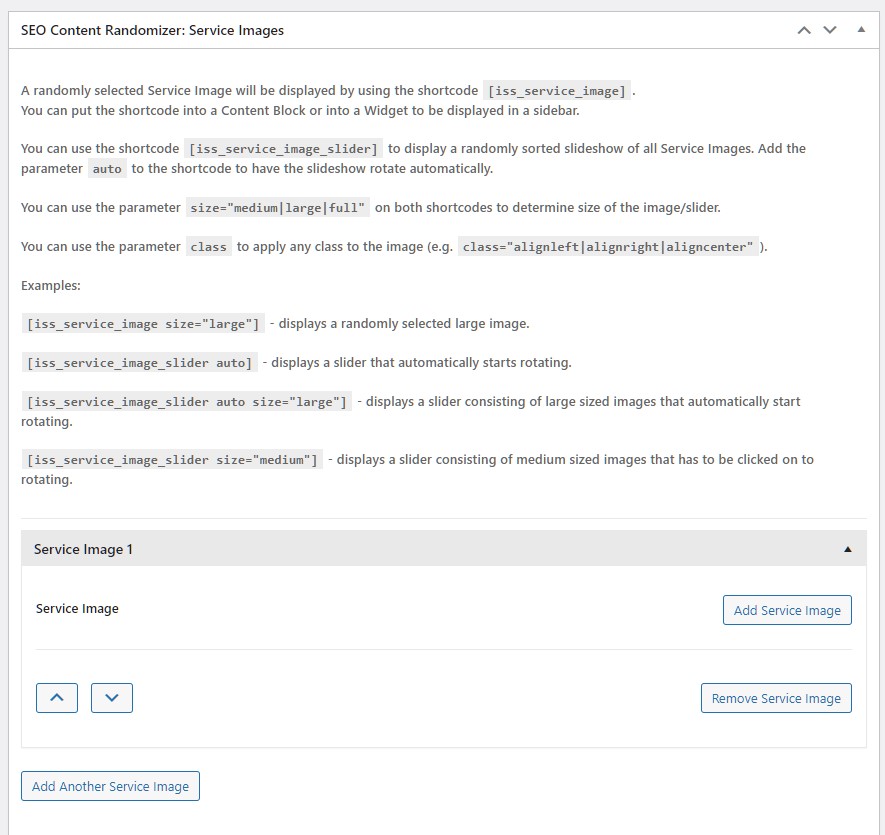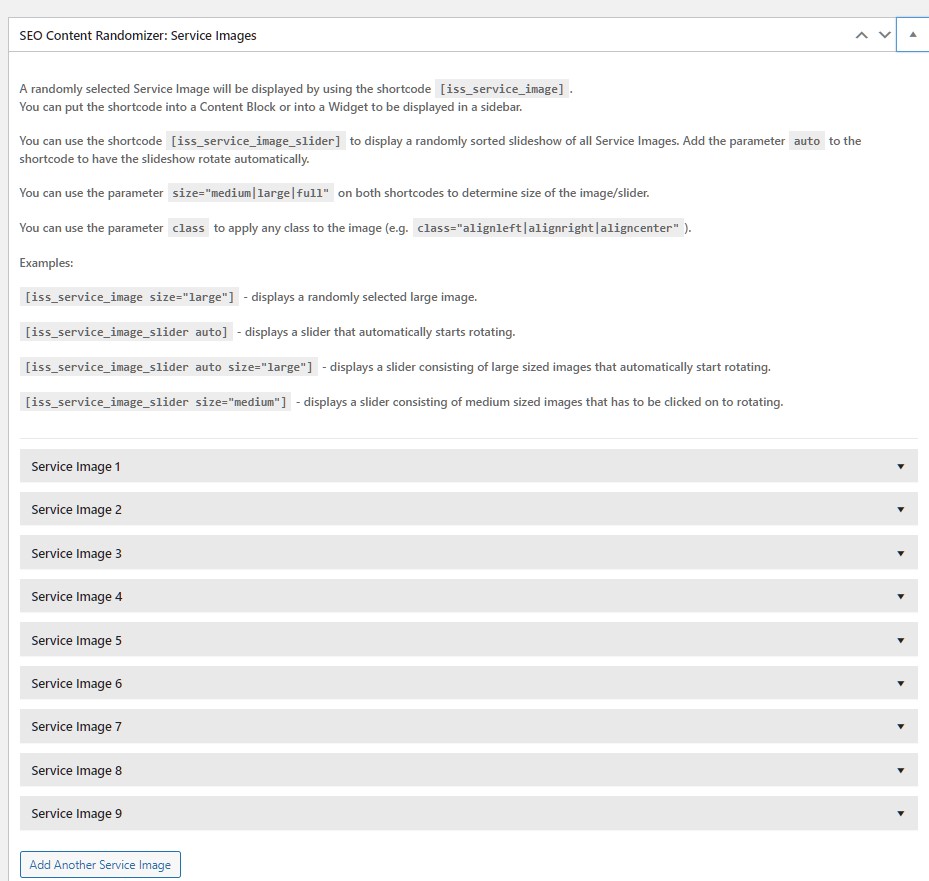 Sample Template Page showing a pool of images
In this template, 9 images have been loaded into Service Images. Wherever the template content blocks specify a Service Image shortcode, one of these images will be inserted. This helps randomize the page content and generates visually different pages. 
Template Page Configuration - Using multiple phrases
You can define multiple sets of interchangeable phrases. These can then be used in any of the content blocks to further randomize the text on a landing page.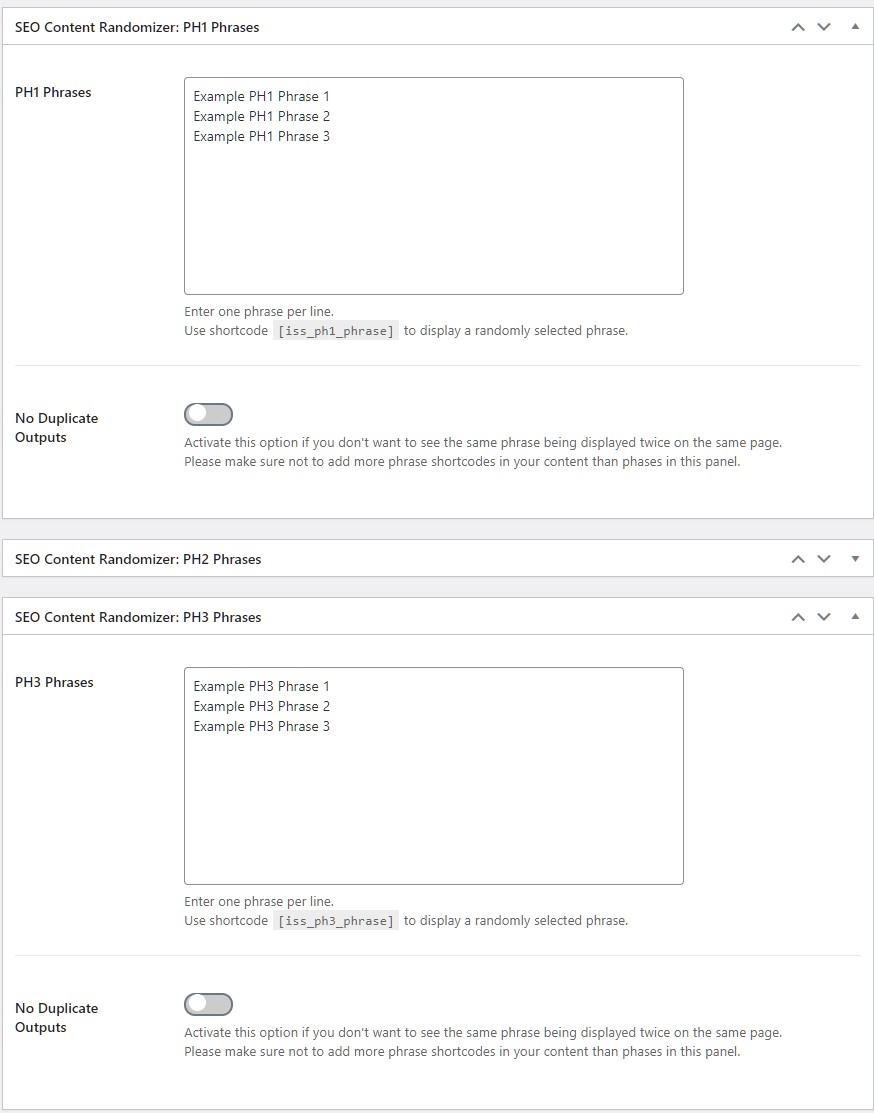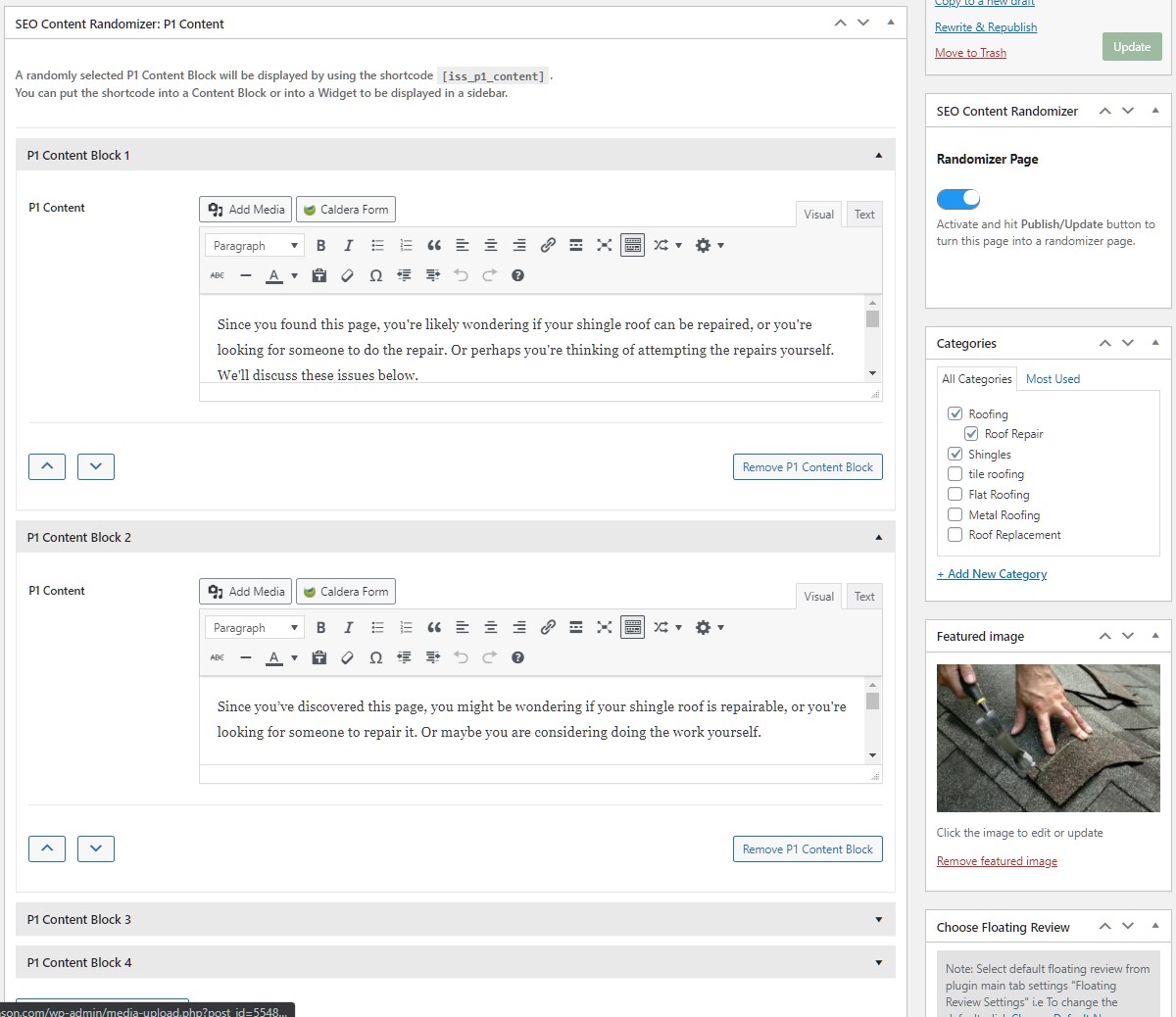 Sample Template Page - Multiple content blocks
Multiple versions of the content allow the randomizer to select different wording. Note that the text is not spun – it is just written with different wording. Therefore this does not violate Google's terms of service about spun text. 
You can also see how different categories can be selected for the page, how a featured image can be set, and how the template is set to be a randomizer page using the selector switch on the right.
Sample Landing Page Components
You can see here a landing page. The page title has the city name. There is a custom HTML call button with styles applied, and it is pulling a custom phone number for this county. The widget sidebar has a mixture of IntellaSoft widgets (the map and related services) along with custom widgets for the site (a contact form). The related services for this city are dynamically generated links by the Landing Page Generator. The map is generated by the LPG as well. The text and images are partially randomized, as is shown in the next screen below.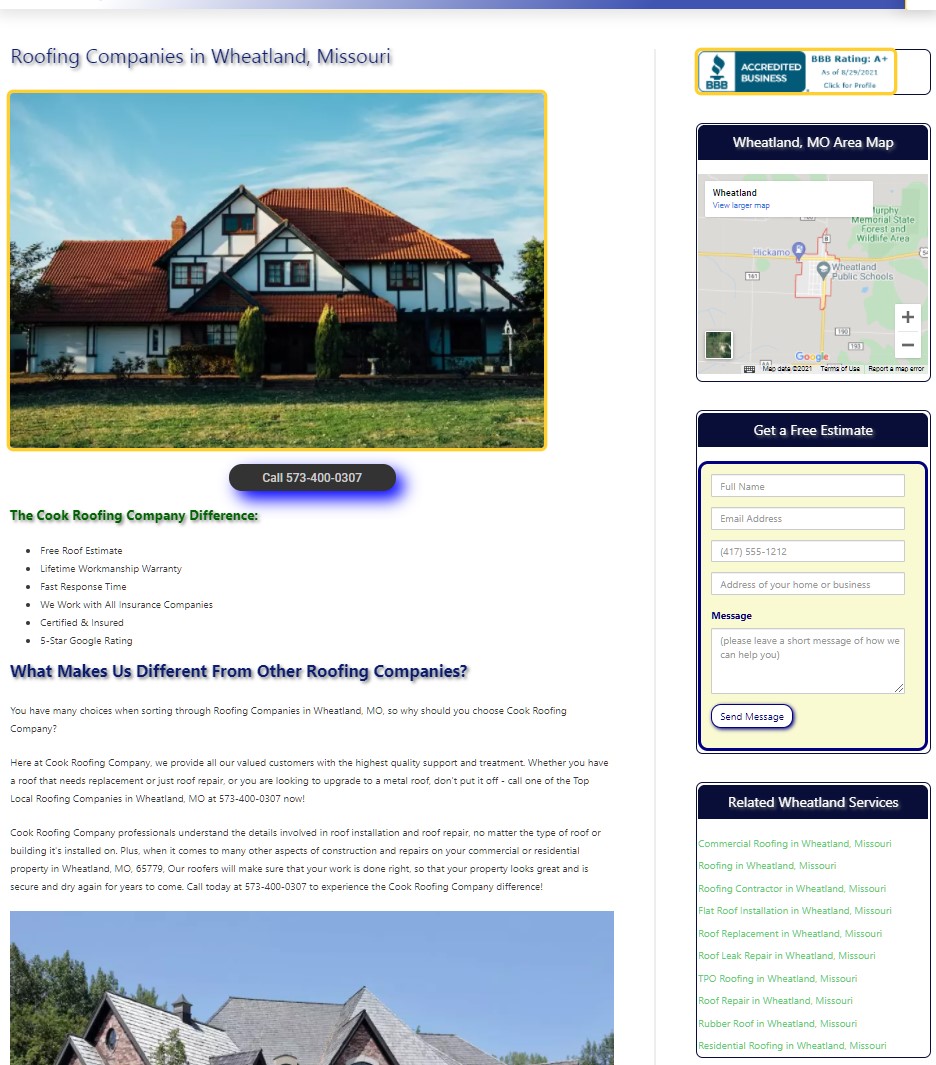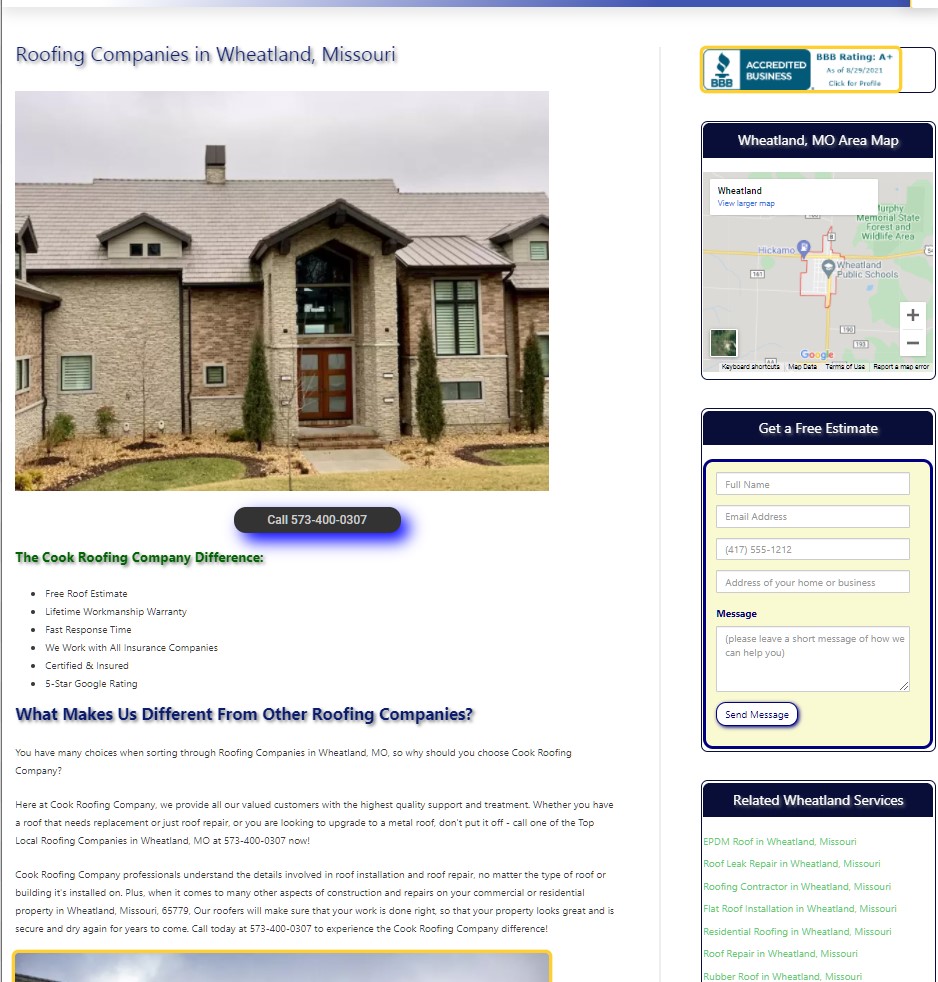 Sample Landing Page - Refreshed for different content and photos again
This is the same page as above, only refreshed again. There is a pool of images and another of content blocks. These pages are refreshed every 7 days, so that content appears fresh to search engines. Some of the text is the same or very similar in this example but it can be as different as you want – including using different HTML code if desired to create blocks or different types of buttons or any other HTML elements desired.
More Sample Landing Page Components
Here are some more of the widgets that the plugins can create. Here are the related services, zip codes (this city only has one zip), and other cities in this county (only one in this case, it's pretty rural).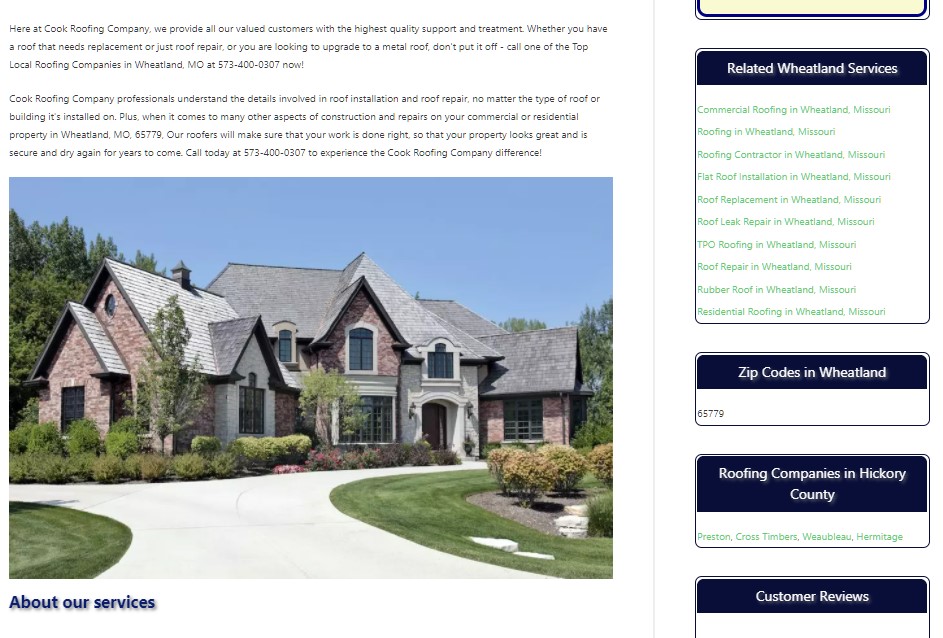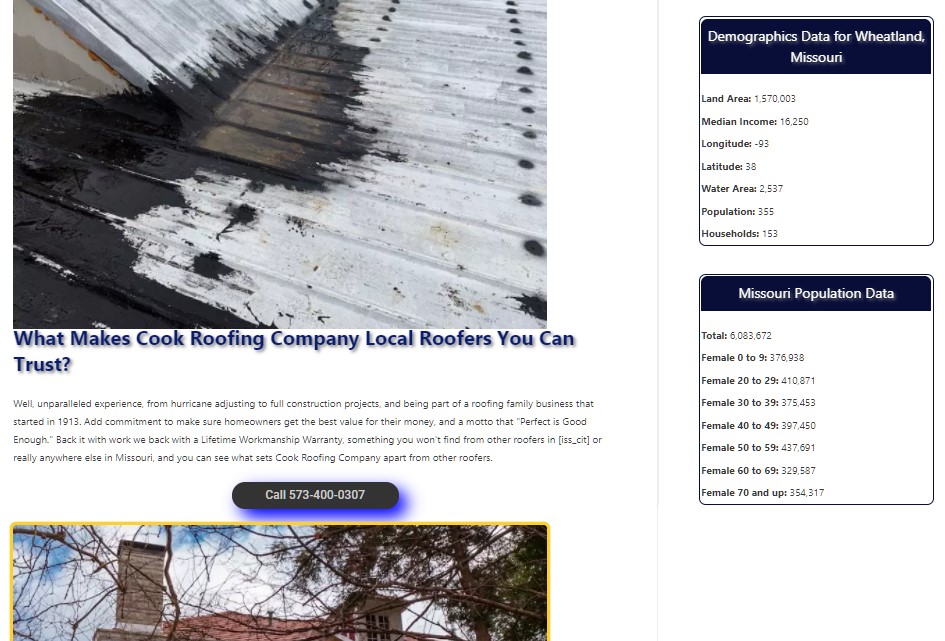 Sample Landing Page - Demographics Widgets
Further down the page are additional widgets from the demographics add-on. This shows demographics and population data.
Landing Page Sample showing HTML code in use
This sample shows button boxes created using HTML code and custom styles. The widgets are also modified in appearance by using custom styles, in this case added to the Additional CSS section of the theme appearance. There is also a video embedded in this page. We could easily have specified multiple videos and had the LPG choose which one to include.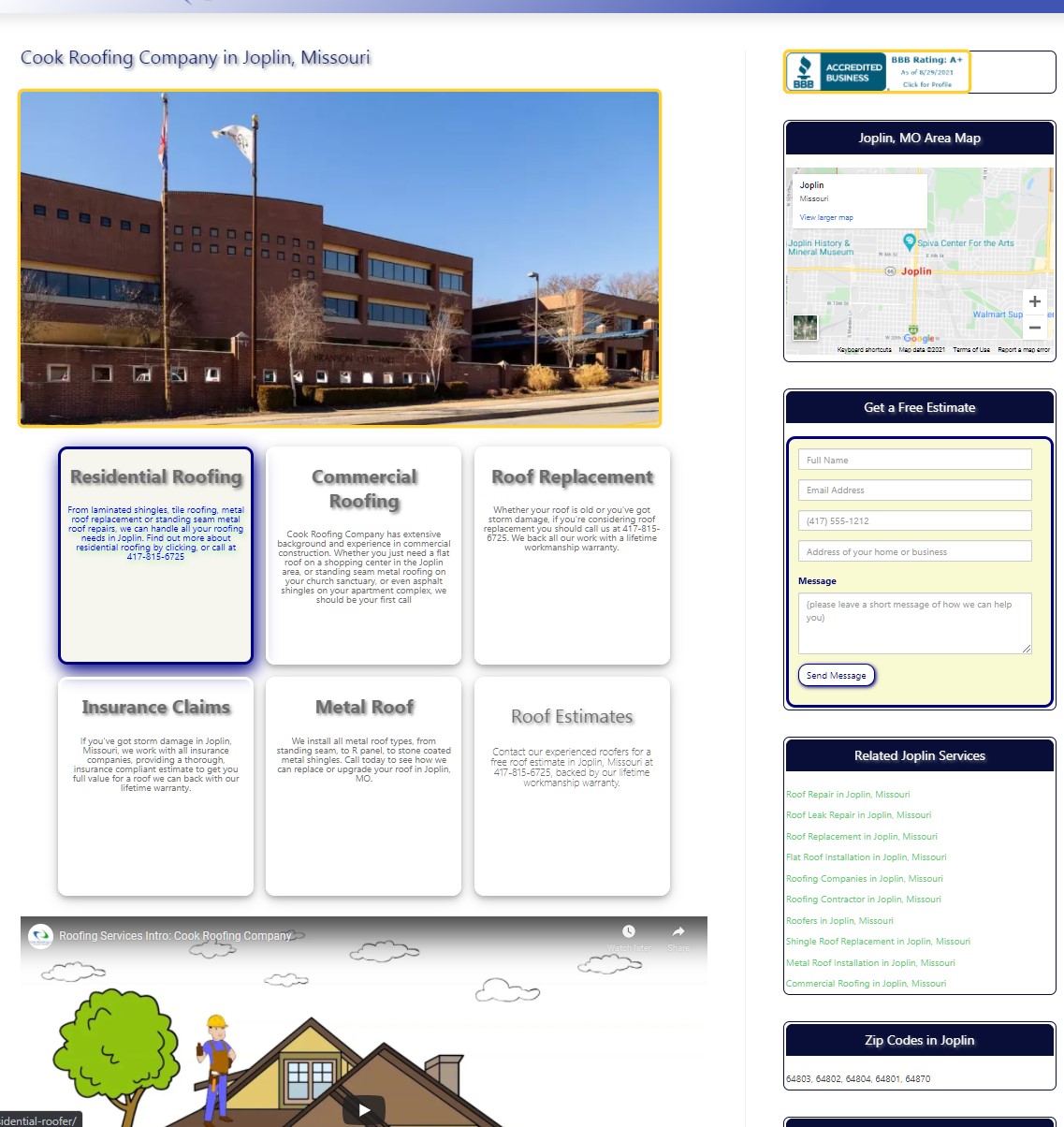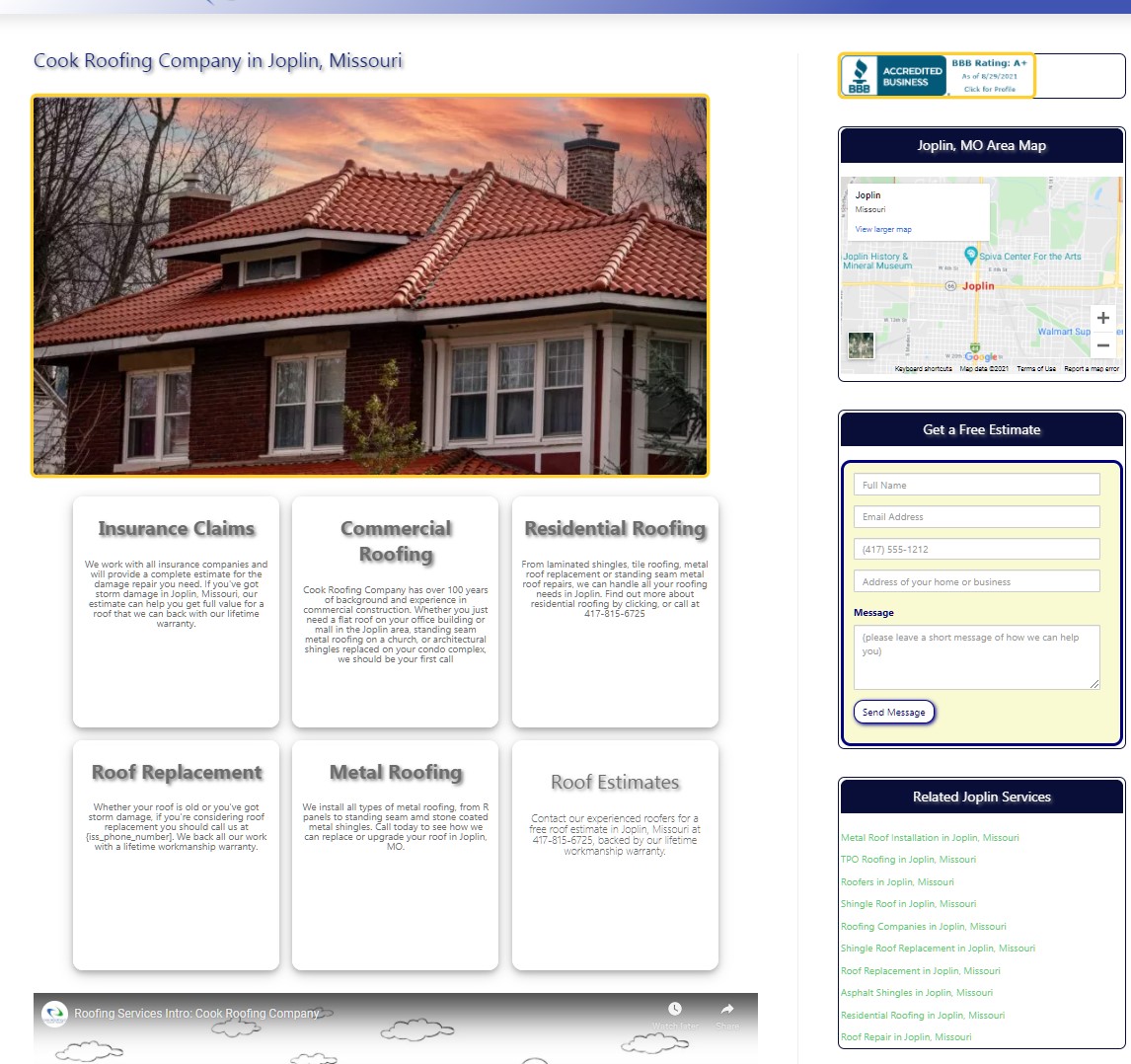 Sample Landing Page - HTML code again, but refreshed
The image changed from above just by refreshing the page. Note that the buttons also changed. This is the same page, but it has multiple content blocks that have the code changed around so that it creates different versions of the button boxes.
Large Market Content Shown on Landing Page
The landing page generator can be combined with the local content add-on to add specific additional local content. See the Local Content Add-on Page for more details.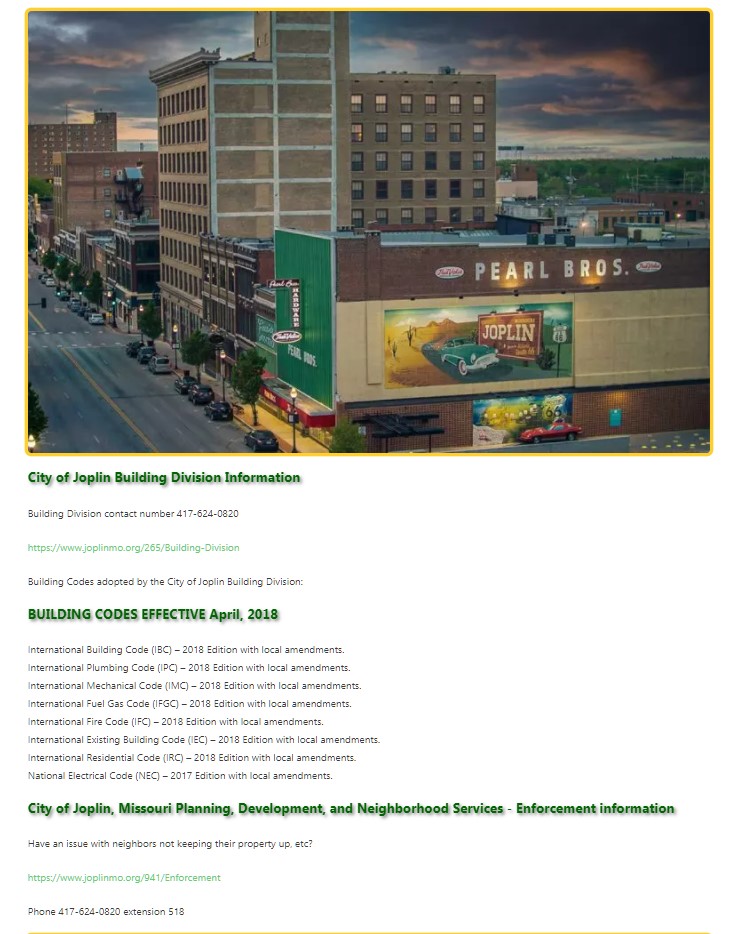 We offer competitive rates and amazing pricing plan
Three simple ways to get started today.
Will this plugin help increase my page rank on Google?
This plugin addresses an important part of your site's SEO, namely hosting quality, location specific content that promotes your services. Our plugin can generate landing pages with location specific content for all US cities. However, the landing pages are only as good as the content that's on them. The good news is, that you only have to write that content once, so we encourage our clients to make quality the first priority, to get the best ranking results on Google.
Can I see a demo of the plugins?
Yes. Just shoot us an email or give us a call. We're more than happy to show you the ins and outs of the plugins. If you want to give it a try yourself, you can download the free version and test it for as long as you want.
Can I generate landing pages for any city in the US?
Yes. Our database includes about 50,000 US cities that you can generate landing pages for. If you purchase the Enterprise plan, you could actually market to every city in the United States. In practice however, most of our clients use the plugin to generate landing pages only for the areas they're actually offer services in.
How do I upgrade from the free version of a plugin to a paid plan?
It's as simple as logging into your WordPress Admin Dashboard, and then going to the "Upgrade" page in the plugin's settings. From here you can pick the plan you like and make a payment.
Landing pages are generated based on the cities you activated in the plugin's settings panel and the template pages you create. So if a template page has the name "My Service" and the city Troy in Michigan is activated, one landing page that will be created will be named "My Service in Troy, Michigan". The landing page will contain the content you entered on the template page and fill the placeholders with information specific to Troy in Michigan.
As the name suggests, template pages are used as templates for landing pages and promote services you offer. You write quality content once on the template page, and use placeholders in the text that will be filled in with location specific text when a visitor opens a landing page. Updating content on the template page automatically updates all the correlating landing pages too.
CALL US IF YOU HAVE ANY QUESTIONS
support@intellasoftplugins.com
Every area of our plugins is documented with a video.
Please take a look to learn how to use them.