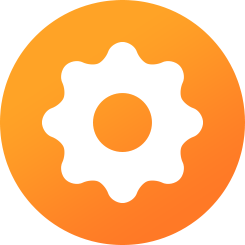 SEO Content Randomizer
Do you want to rank higher on Google without spending vast sums of money on Ads or web agencies who keep your site up-to-date?  The SEO Content Randomizer can automate all of that for you so you can focus on what you do best: running your business while getting leads through your website.
What Is A Content Randomizer?
What if all your landing pages could be unique, and refresh content every 7 days?
The IntellaSoft Plugins Content Randomizer is a revolutionary way to create and maintain unique, fresh landing pages, even if you have hundreds or even thousands of landing pages.
If you've ever tried to manually create landing pages, you know that one of the challenges is coming up with unique pages for each location. Many people give up on this daunting task, and just clone the same page with the same images and change the name of the city and state and hope that's good enough. Well, Google calls this "gateway pages," and frowns on this practice. 
Well then, you might ask how you're supposed to have landing pages (considered an SEO best practice for local businesses) and yet have unique content. 
IntellaSoft Plugins' Content Randomizer is how you do this. 
Our Content Randomizer gives you a highly customizable interface that you can use to configure content blocks, image sets, keywords and phrases, meta descriptions, and FAQ lists that can have multiple versions written for them. The Content Randomizer will then randomly select a block or image from a list of multiple blocks or images, and insert it in the appropriate places on the page. Every time the page is refreshed, it can generate a new version of that page (unless you turn on caching, then the version will be saved for 7 days). Every 7 days, if you're using the Landing Page Generator also (why wouldn't you be using that too?), each landing page will be refreshed. So when Google comes crawling your site again, it will discover new versions of the pages.
Since the content is written by you, not spun (like some competitors do), this is all well within Google's terms of service. 
We'll let you figure out the math if you want, but suffice it to say that if you have 5 or 6 paragraphs of text, with 4 blocks of content each, there are thousands of combinations of these blocks to ensure that every page has a unique story. Add in the ability to use interchangeable keywords and phrases, and draw from a pool of images you upload, and you have a formula for keeping all your landing pages unique and fresh.  Maintenance adding fresh blocks periodically will make doubly sure that your content is always seen as fresh by Google. 
 Continue reading below to find out more about the specific capabilities of the content randomizer. Or just go ahead and give us a call to schedule a consultation and find out how you can get started right away.  
CALL US IF YOU HAVE ANY QUESTIONS
support@intellasoftplugins.com
For web developers and agencies, we offer white-labeling, discounted licenses of our plugins, and an affiliate program.
Now With Gutenberg Blocks Support!
Build Landing Page Templates with the Gutenberg Editor
Create beautiful landing pages by using the native WordPress Gutenberg Editor! By integrating our plugin with the Gutenberg Editor, the plugin has become easily accessible to tens of thousands of web editors across the world who rely on the natively supported Gutenberg Blocks editor on their WordPress site. WordPress has put extensive development into their block editor, to allow developers to achieve stunning looking sites without adding a heavy page builder plugin or theme. Harness this power to create visually stimulating and market-capturing dynamic landing pages, by using the Gutenberg Editor in your landing pages. This feature works seamlessly with our plugins. 
Works With All Page Builders and Editors
Keep Your Current Page Builder While Adding Landing Pages with Intellasoft's Plugins
You can incorporate local landing pages into your existing website with the Intellasoft Plugins Landing Page Generator, and using the Content Randomizer and Google My Business Manager, no matter what page builder you might be using, whether it's the Gutenberg Blocks Editor (natively supported inside the landing pages themselves), or any of the other popular page builders:
Ark, Avada, Avia, Beaver Builder, BeTheme, Bold, Divi, Elementor, Enfold, Flatsome, Fusion Builder, Fresh Builder, Live Composer, Muffin, Pro, SiteOrigin, Thrive Architect, Visual Composer and X.
With IntellaSoft Plugins, there's no need to rebuild your site, or get your developer to make changes so that our plugins will work. They will work seamlessly with whatever builder you use. And if you encounter any issues, our award-winning support will work with you to ensure your success.
Our plugin supports creating location based landing pages for every major country around the world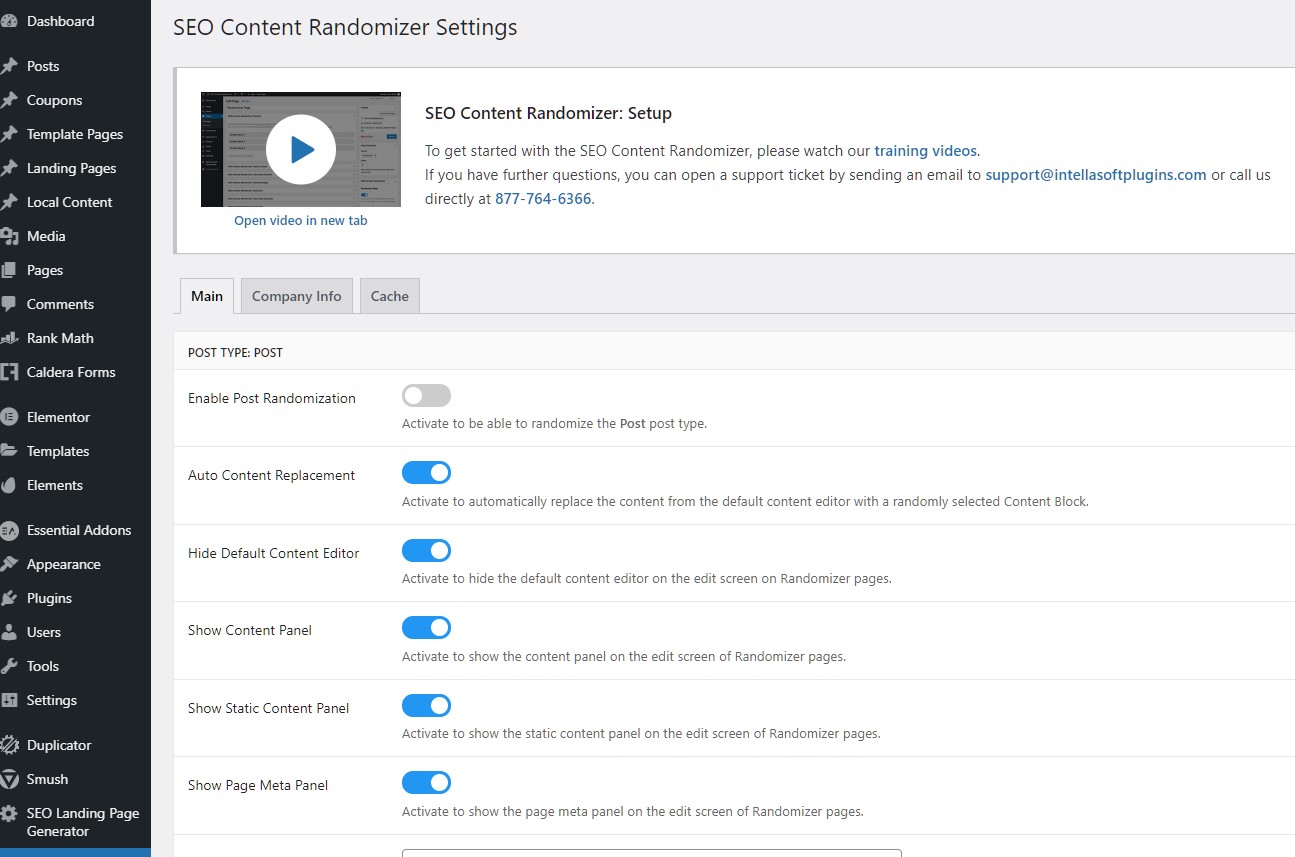 All areas of the plugins have helper videos explaining the setup. The Content Randomizer settings have numerous options to help you customize the content to best meet your needs.
Clicking on the Company Info tab takes you to the Landing Page Generator Company Info area, where you can enter appropriate details for your company. These details are used in other parts of the plugin, and when generating location schema info (using the IntellaSoft Schema Add-on).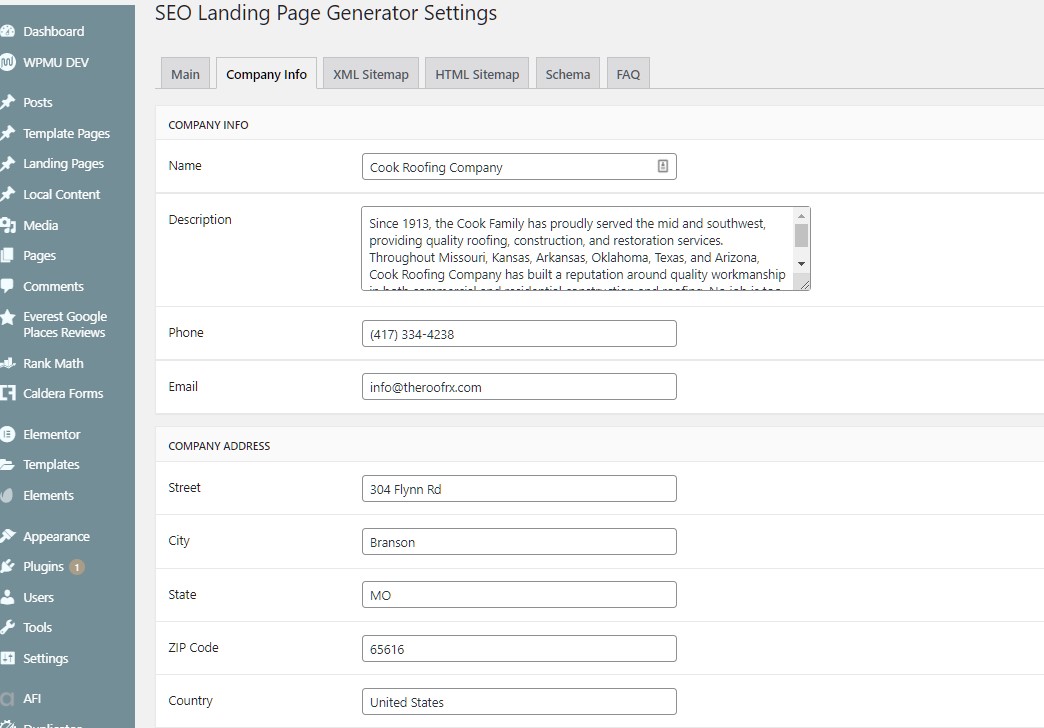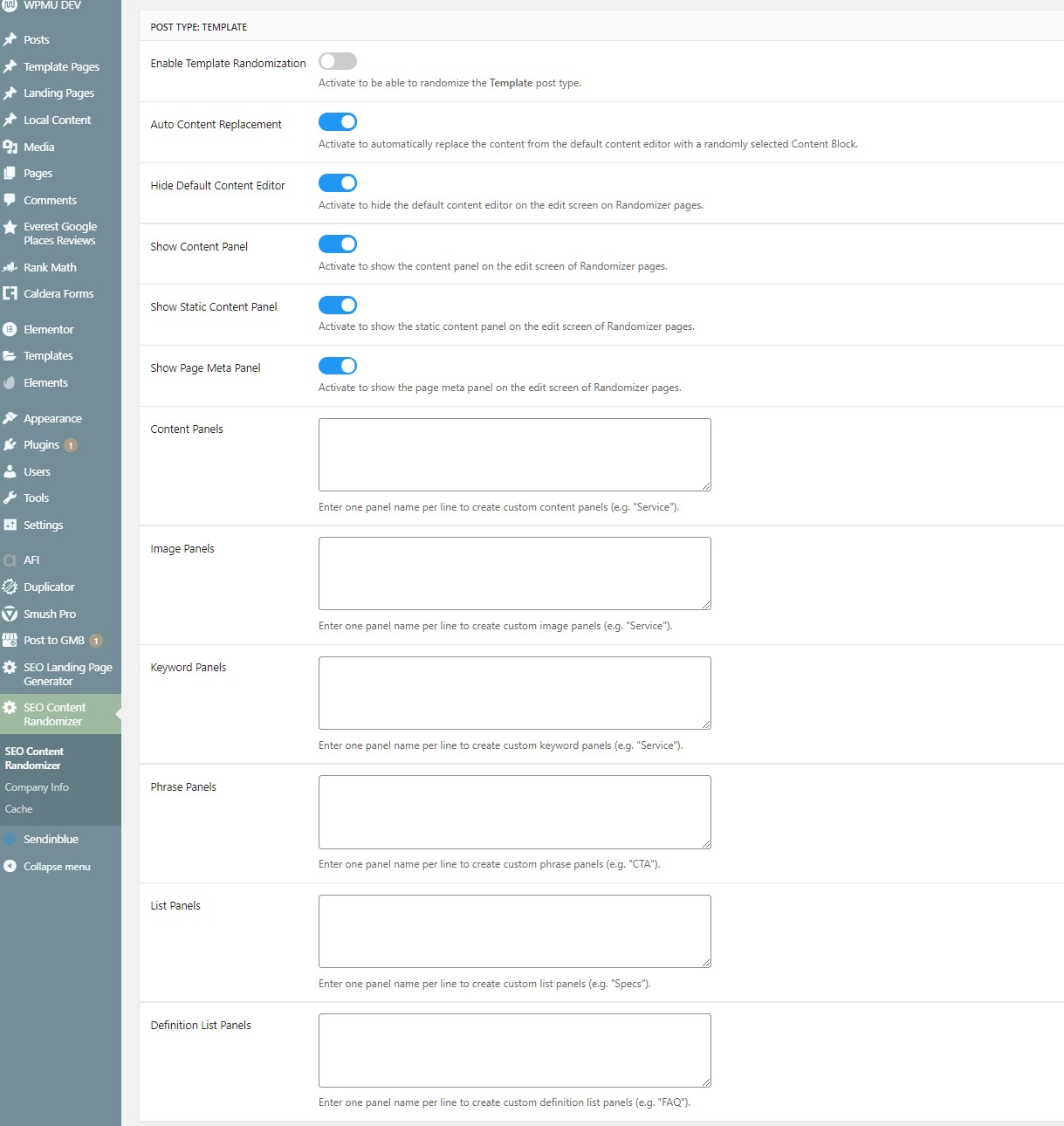 Content Randomizer Configuration
Each template type can be configured separately, allowing a highly customizable setup. The configuration here determines which panels, and how many of them, appear in the Landing Page Generator's Template page, for each template you create.
The Content Randomizer allows storing of a cached version of the generated pages. This helps with server load and performance, serving up a previously-generated version of the randomized page, rather than generating every requested page on demand.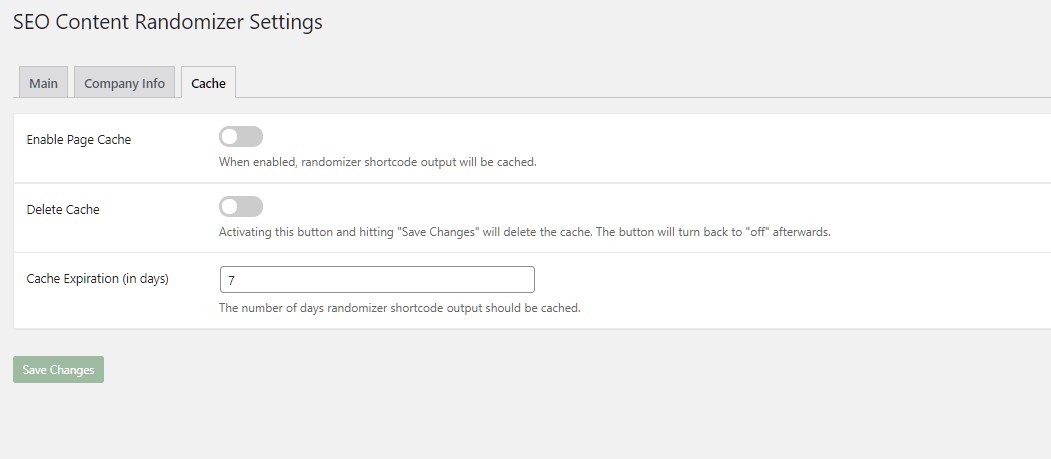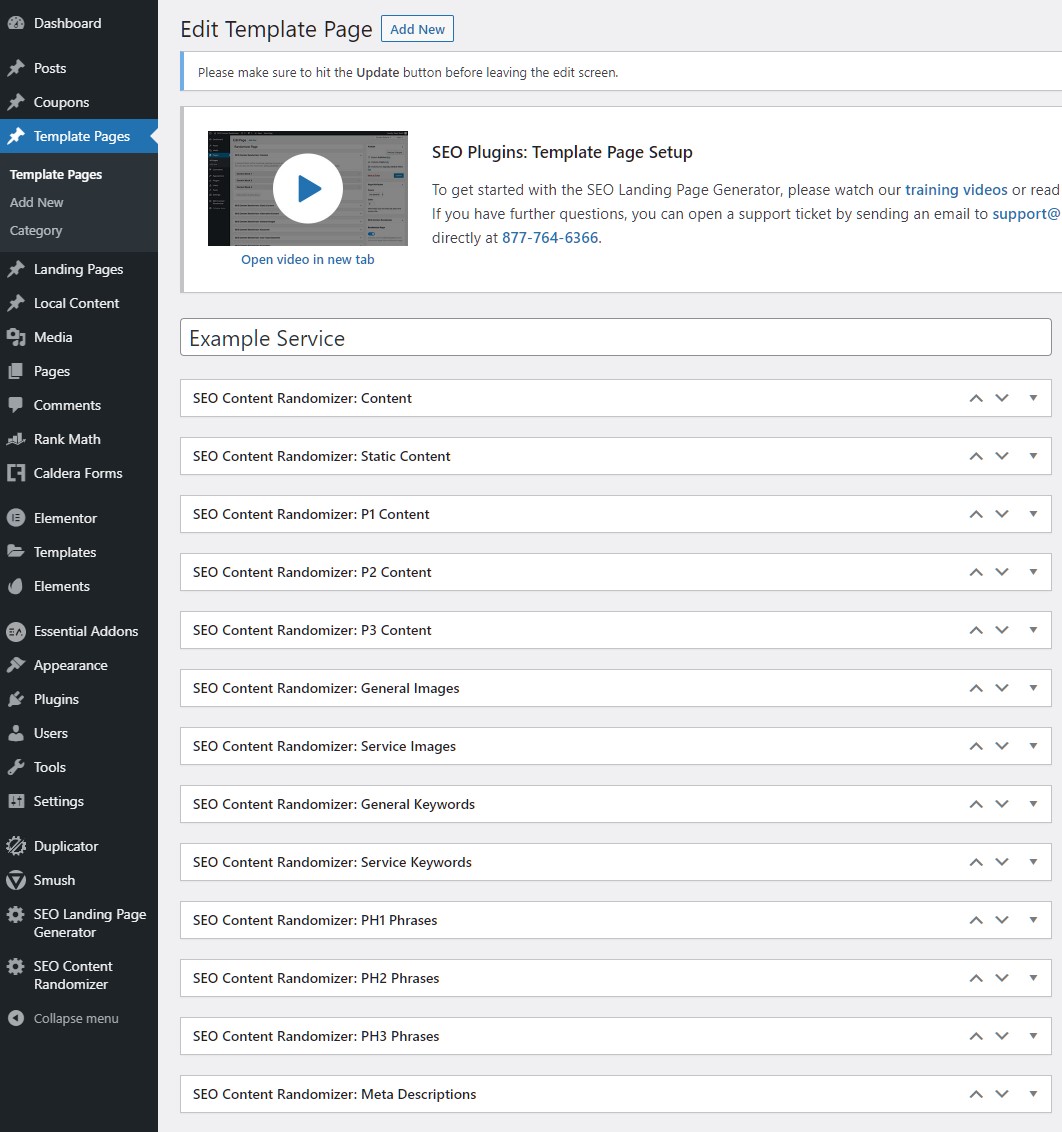 Template Page Configuration - Different kinds of content sections
Template Pages are the pages you configure and which get generated into landing pages. The content randomizer allows this to be highly configurable, and different sections can be referenced by other sections. For example, the Content section can reference paragraph content, images, etc and include those using shortcodes into the content block. The components shown on this page are determined by the configuration in the content randomizer, if it is being used with the Landing Page Generator. 
Template Page Configuration
Sample of creating content that calls randomized sections. You can see in this screen shot how you reference shortcodes in the content to insert variables. There are so many possible combinations and ways to mix up the content that it's easy to create unique and customized pages for the location.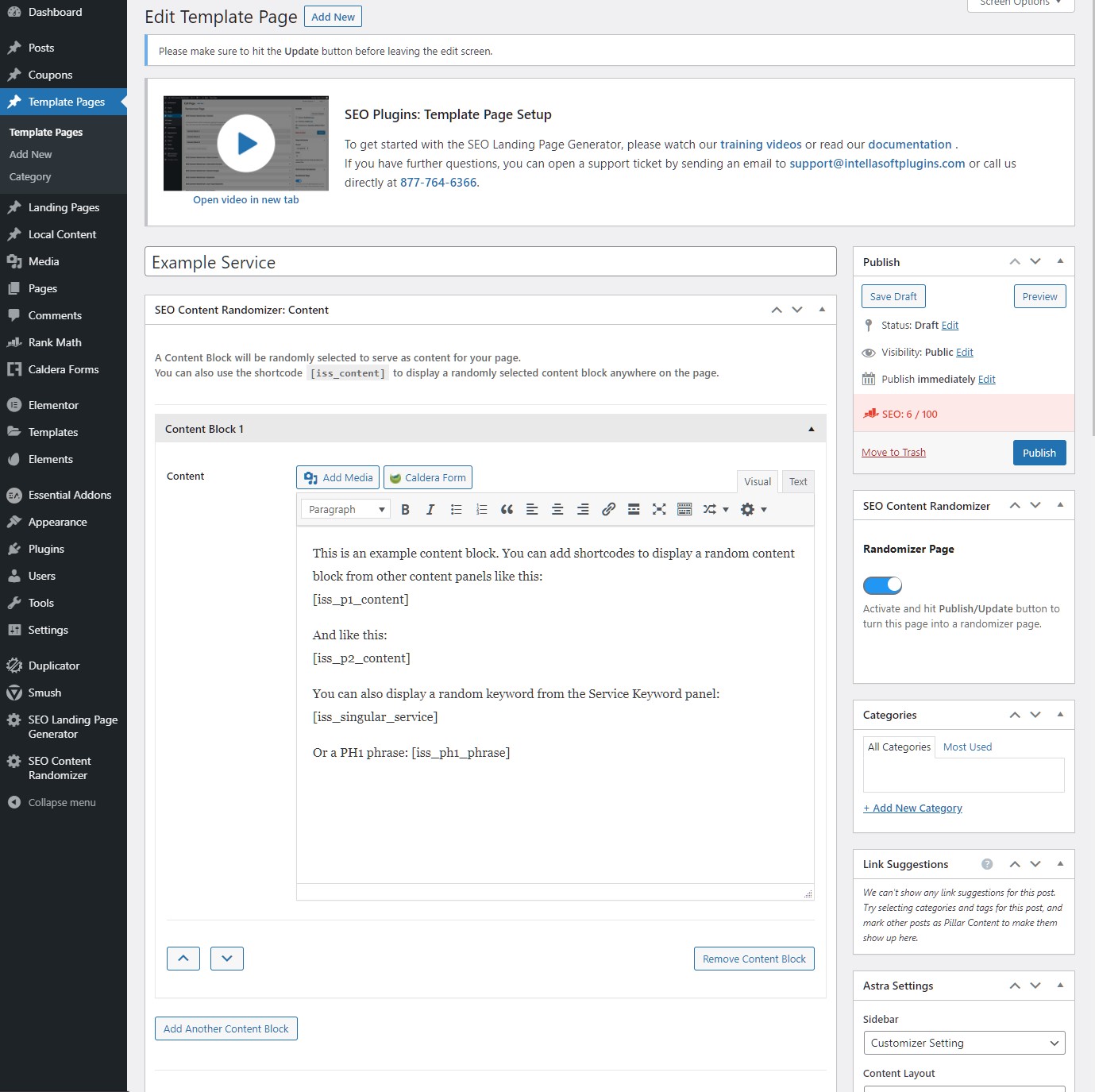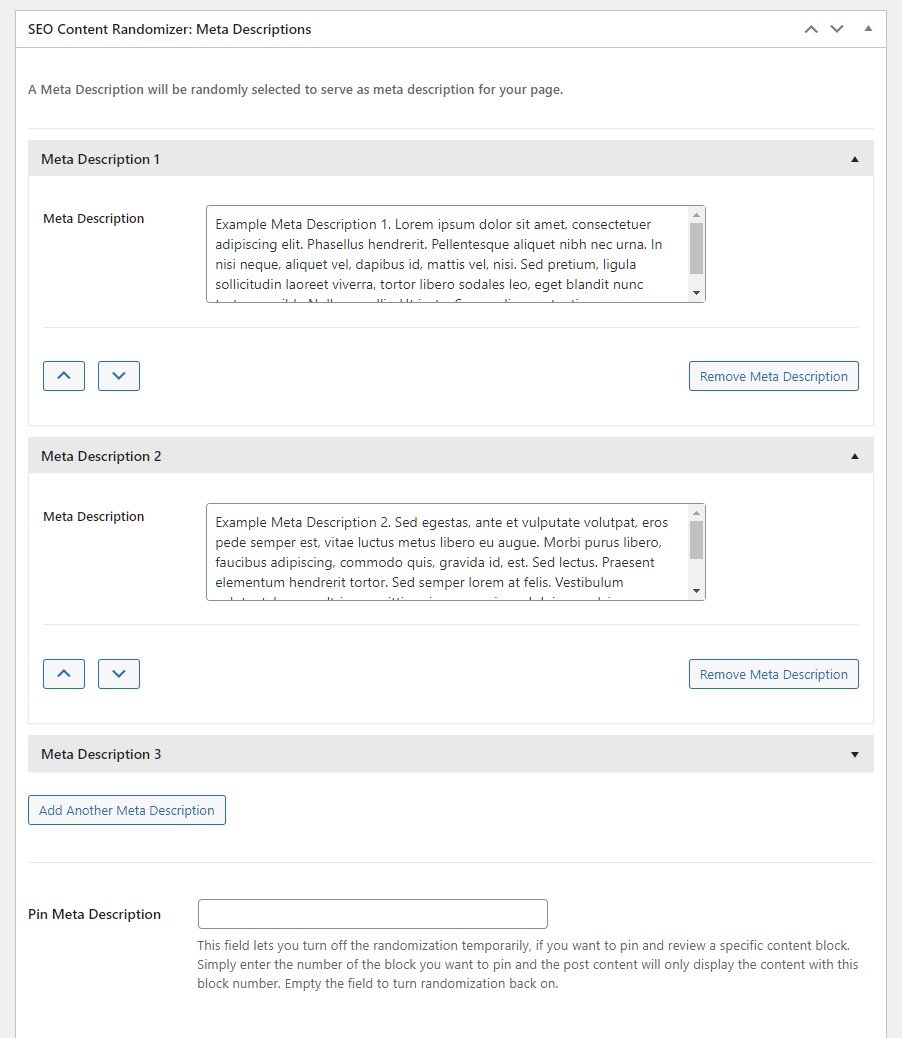 Template Page Configuration - Meta description randomization
Multiple meta description blocks can be specified. That allows the landing page generator to chose one as the meta description when each landing page is generated.
Template Page Configuration - Using multiple content blocks
Here are some examples of multiple content blocks, containing different versions of the same information. The content randomizer with the page generator allows you to create a practically unlimited number of versions of the page, simply by creating multiple versions of each block. With enough content blocks for each paragraph, you can create thousands or tens of thousands of iterations of the same landing page, without even taking into account phrases, keywords, or locations.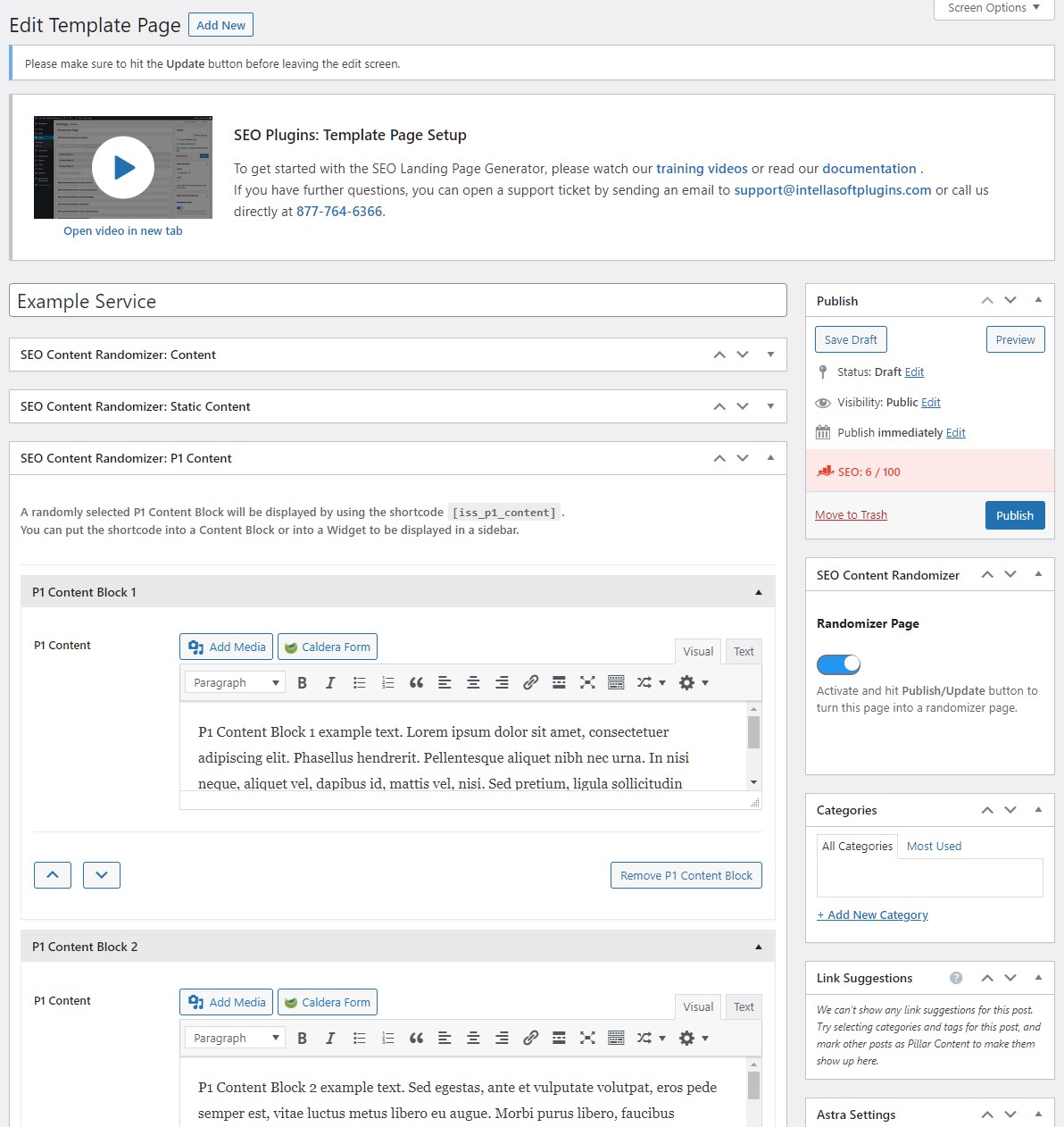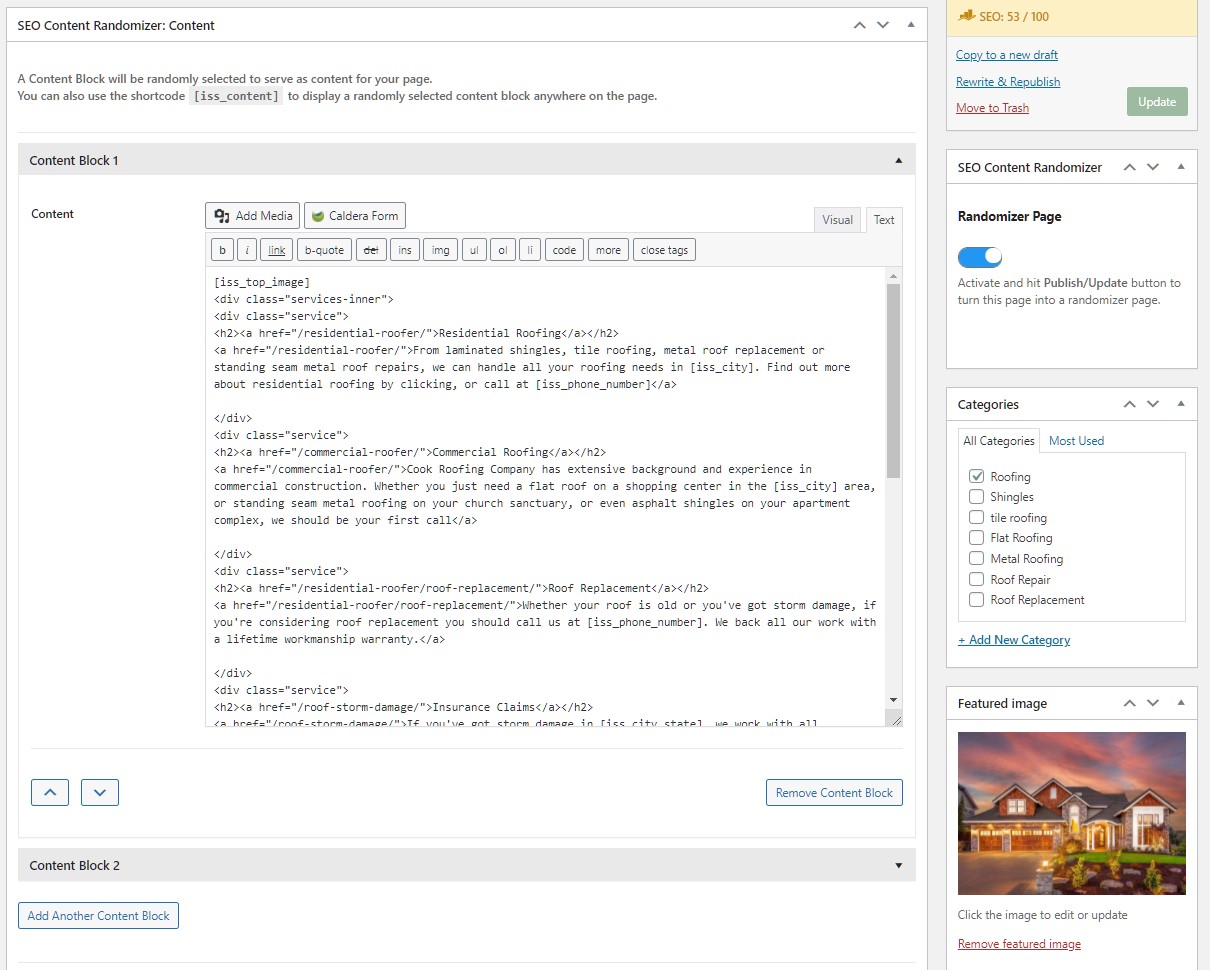 Sample Template Page showing HTML code to create boxes
The content blocks can use the default WordPress text editor. But they can also accept HTML text, allowing for more advanced and customizable output. Here's an example of using code to create button boxes, with shortcodes and other dynamic elements. Multiple blocks like this allow the buttons to vary from landing page to landing page, for more randomization while adding more visual interest to each page.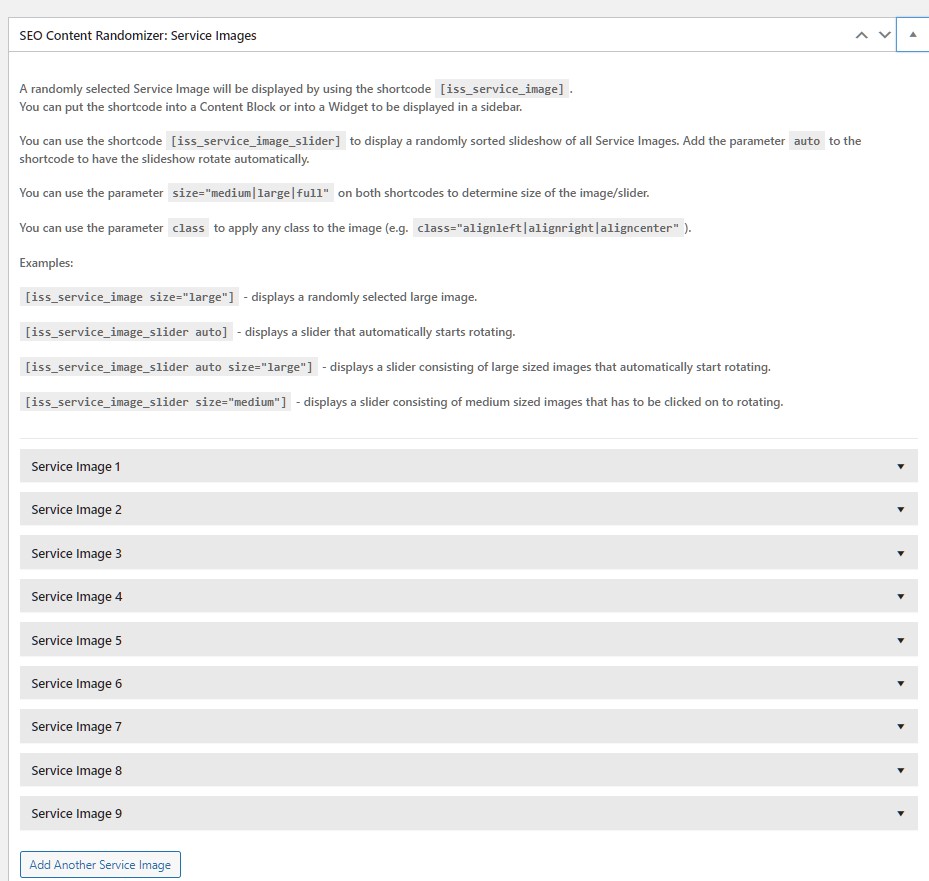 Sample Template Page showing a pool of images
In this template, 9 images have been loaded into Service Images. Wherever the template content blocks specify a Service Image shortcode, one of these images will be inserted. This helps randomize the page content and generates visually different pages. 
Template Page Configuration - Using multiple phrases
You can define multiple sets of interchangeable phrases. These can then be used in any of the content blocks to further randomize the text on a landing page.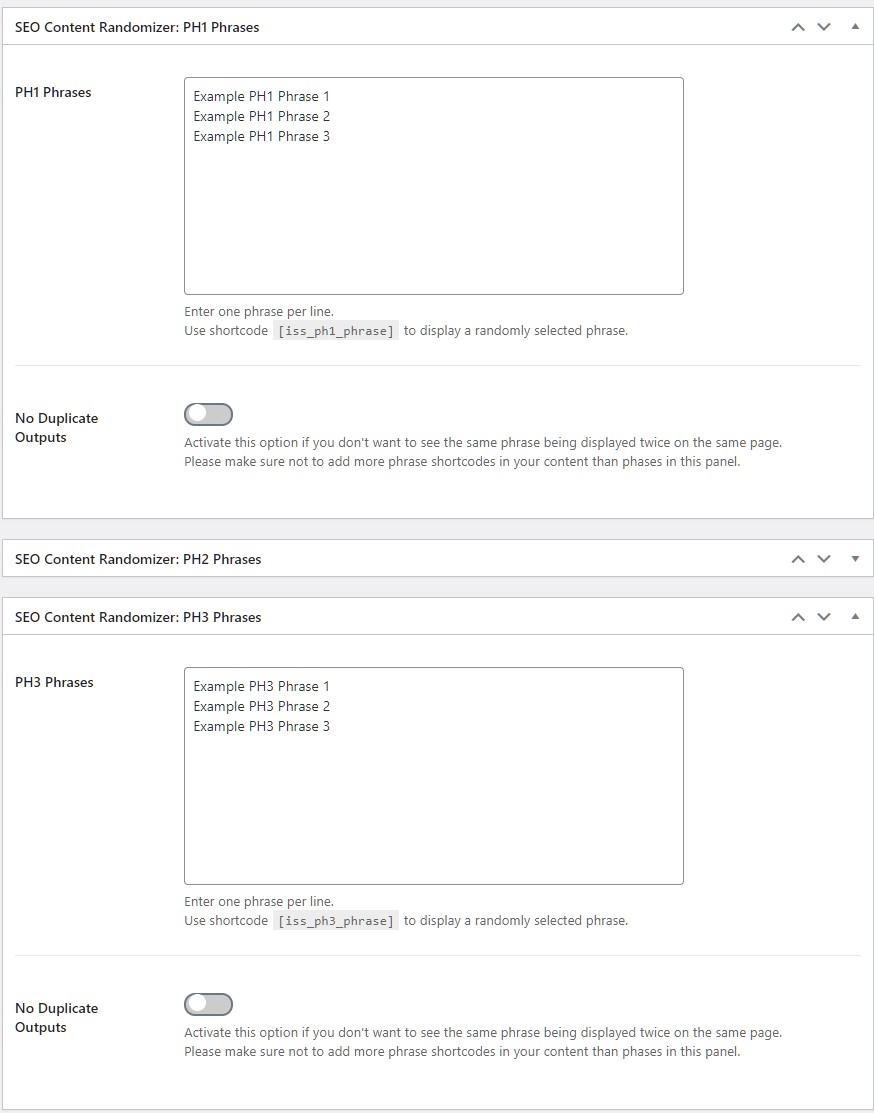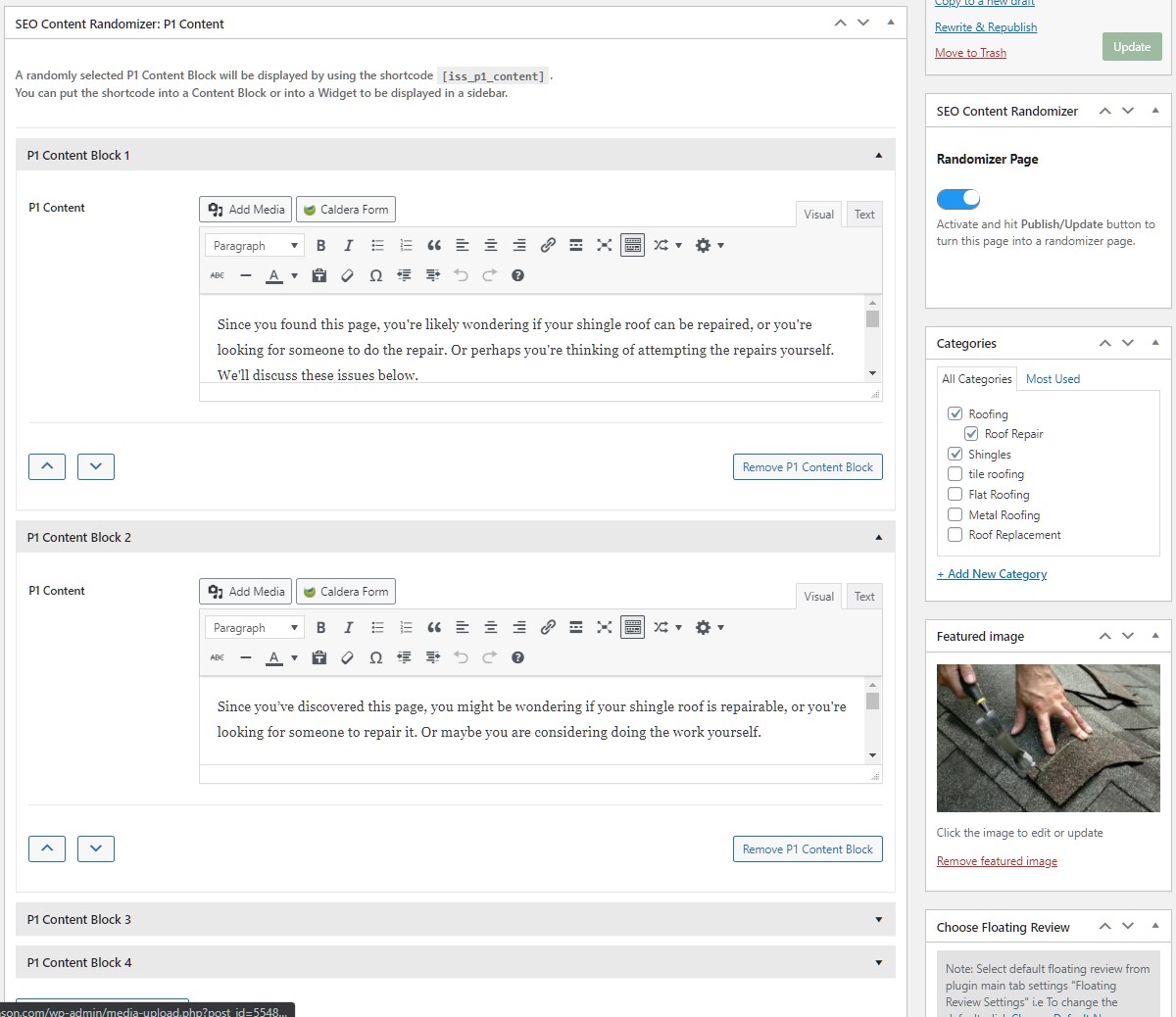 Sample Template Page - Multiple content blocks
Multiple versions of the content allow the randomizer to select different wording. Note that the text is not spun – it is just written with different wording. Therefore this does not violate Google's terms of service about spun text. 
You can also see how different categories can be selected for the page, how a featured image can be set, and how the template is set to be a randomizer page using the selector switch on the right.
For web developers and agencies, we offer white-labeling, discounted licenses of our plugins, and an affiliate program.
We offer competitive rates and amazing pricing plan
Three simple ways to get started today.
Will this plugin help increase my page rank on Google?
This plugin addresses an important part of your sites SEO, namely keeping your content fresh and up-to-date for Google to increase your ranking. The plugin gives you the tools to automate the updating process of your content. However, it will just work as good as the content you add. We encourage users learn at least the basics of writing keyword driven content to archive the best results. Here is a great article on that topic.
Will my original content get deleted once I turn a page into a randomizer page?
No. The plugin doesn't delete any of your data. If you turn a randomizer page back into a normal page, your original content, including the default content editor will appear again. You can even bring the default editor back, on randomizer pages, by going to "SEO Content Randomizer" in your WordPress Admin Dashboard and deactivating the setting "Hide Default Content Editor".
How do I upgrade from the free version of a plugin to a paid plan?
It's as simple as logging into your WordPress Admin Dashboard, and then going to the "SEO Content Randomizer > Upgrade". page in the plugin's settings. From here you can pick the plan you like and make a payment.
Since the SEO Content Randomizer replaces your single editor with multiple content block editors, there is really no need to show the default editor, so we hide it by default. However, no content gets deleted and you can bring the default editor back by going to "SEO Content Randomizer" in your WordPress Admin Dashboard and deactivating the setting "Hide Default Content Editor".
CALL US IF YOU HAVE ANY QUESTIONS
support@intellasoftplugins.com
WooCommerce Support Included
The SEO Content Randomizer Works Seamlessly with WooCommerce
Every area of our plugins is documented with a video.
Please take a look to learn how to use them.